Announcements of commercial launches
5G is heating up in the world. Verizon launched a Fixed Wireless Access commercial service on October 1st, 2018. The number of alive 5G networks increased significantly in Europe and outside Europe since the beginning of 2019.
1. Europe
At the end of March 2020, 5G commercial services had been deployed in 10 (EU-27 plus the UK) countries:
EU-27 plus the UK countries with 5G commercial service – March 2020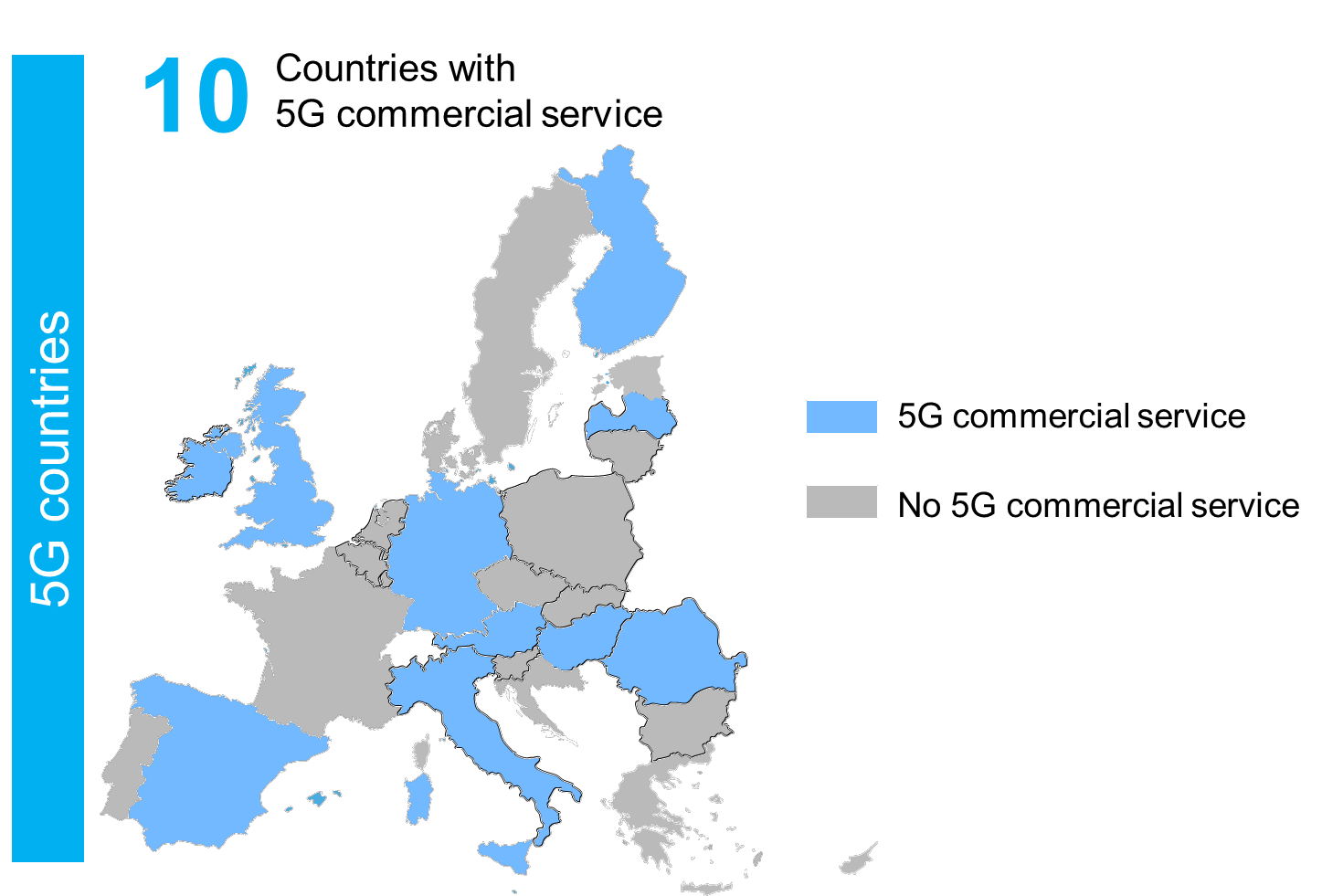 Source: IDATE Digiworld
Austria
T-Mobile
In Austria, T-Mobile announced in March 2019 commercial launch with friendly customers using the 3.6 GHz band. The operator announced it had deployed 25 base stations for this launch in rural areas. The terminals used are 5G routers, which allow connection in WiFi mode for households. The first 5G smartphones were available at the end of 2019. A greater variety of models and larger numbers of 5G-enabled smartphones and tablet PCs will likely hit the market in 2020.
T-Mobile Austria received usage rights in the 3.4-3.8 GHz band on 7th March 2019, which provided the company the foundation to expand the 5G communications standard throughout Austria. In this auction, T-Mobile Austria acquired 110 MHz of spectrum throughout the country (11 packages of 10 MHz each in 12 regions), for a total price of EUR 57 million.
Three
Three Austria announced a 5G pre-launch after activating its 5G network in the city of Linz in June 2019. The operator activated, in September 2019, more 5G base stations in Worgl and Vienna and started offering 5G tariffs and devices. In December 2019, the company revealed that around 100 5G locations were going to be live across the country by the end of 2019.
The company secured 5G-suitable 3.5GHz spectrum covering all twelve designated regions of Austria for 51.9 million EUR at auction in March 2019.
A1 Telekom
A1 launched its 5G network in January 2020 using the 3.5 GHz band. The "A1 5Giganetwork" covers 350 locations across 129 municipalities in Austria spanning 54,000 square kilometres. The operator paid 64.3 million EUR for nationwide 5G spectrum in the 3.5 GHz range in March 2019.
Finland
Elisa
Elisa reported its 5G network carried a 5G phone call on 27 June 2018 between the Estonian minister of Economy and her Finnish colleague in Finland. Tests performed showed data speeds of 2.2 Gbps. That said, the first 5G licences were made available in the 3.6 GHz band frequencies in autumn 2018. The operator started offering 5G mobile devices and plans in June 2019 (1 Gbps at 50 EUR per month, and 600 Mbps for 40 EUR per month) in Tampere, Jyväskylä, Turku and Helsinki.
Telia
Telia Finland launched 5G services in seven cities at the end of 2019. The operator offers Fixed Wireless Access and mobile services.
DNA
DNA begun selling mobile 5G subscriptions in January 2020, having previously launched its 'DNA Home 5G' offering in December 2019.
Germany
Deutsche Telekom
Deutsche Telekom switched on its 5G network on September 5th, 2019, in five German cities: Berlin, Bonn, Cologne, Darmstadt, and Munich. Hamburg and Frankfurt followed. The company announced that the network is using 129 5G antennae across the country, 66 of them in Berlin, with bandwidths of 1 Gbps or more. The operator said it aims to have 1 500 antennae across more than 20 cities by the end of 2020.
Customers can choose four 5G plans: the MagentaMobil S with 6 Go at 39.95 EUR/month, the MagentaMobil M with 12 Go at 49.95 EUR/month, the MagentaMobil L with 24 Go at 59.95 EUR/month, and the MagentaMobil XL with unlimited data at 84.95 EUR/month. The new plans are all 5G-enabled.
Vodafone Germany
Vodafone Germany started its 5G network in July 2019. At launch, customers were able to access 5G plans at 24.99 euros per month for 4 Go, 29.99 EUR per month for 12 Go and 34.99 EUR per month for 24 Go. Vodafone offered two 5G-suitable smartphones: The Huawei Mate 20 X 5G and Samsung's Galaxy S10 5G. The Gigacube 5G home router from Huawei was also available.
The operator announced it planned to have 120 5G base stations by the end of March 2020, with a focus on Berlin, Dusseldorf, Frankfurt, Bremen, Leipzig and Dresden. Vodafone also said it aims to increase 5G coverage to ten million people by the end of 2020.
Hungary
In October 2019, Vodafone Hungary launched a commercial 5G service limited to Budapest.
Ireland
Vodafone
Vodafone Ireland launched 5G services in August 2019 in selected areas of five Irish cities, including Dublin and Waterford. Two 5G-ready smartphones were available to users in August and September 2019 – the Huawei Mate 20X 5G and the Samsung Galaxy S10 5G.
Eir
In early December 2019, Eir launched its 5G service in 10 towns and cities. By January 2020, 5G services were available in 20 towns and cities.
Italy
Vodafone
Vodafone Italy launched its commercial 5G services in 5 cities on 6 June 2019 (Milan, Rome, Turin, Bologna and Naples). In Turin, the Vodafone network covers 80% of the city with 120 cell sites. The number of cities covered will increase up to 50 by the end of 2019 and to 100 by 2021.  Vodafone offered three 5G smartphones: the Xiaomi Mi Mix 3 5G, the LG V50 ThinQ 5G and the Samsung Galaxy S10 5G.
Vodafone inked a network sharing 5G deal with Telecom Italia early 2019.
Telecom Italia
TIM launched its 5G service on June 24th, 2019 in parts of Rome and Turin, Naples followed in July 2019. TIM offered three new dedicated 5G-ready plans of which 2 are marketed as true 5G. TIM Advance 4.5G offers speeds of up to 700 Mbps and costs EUR 19.99 per month and comes with unlimited calls and SMS plus 40 GB of data at speeds of up to 700 Mbps. By contrast, costs EUR 29.99 per month and comes with unlimited calls and SMS plus 50 GB of data at speeds of up to 2Gbps. Finally, TIM Advance 5G Top plan costs EUR 49.99 for unlimited calls and SMS plus 100 GB of data at speeds of up to 2 Gbps. Customers on existing plans can sign up to a "5G ON" option at a cost of EUR 10 per month, with the first month free. Two 5G-capable smartphones were offered by the company: The Samsung Galaxy S10 5G and the Xiaomi MIX 3 5G from Xiaomi. The Oppo Reno 5G will follow shortly.
As of late March 2020, 5G services were available in Bologna, Brescia, Florence, Genoa, Milan, Naples, Turin, and Rome.
Latvia
LMT
Latvian Mobile Telephone launched 5G network in July 2019, with limited availability. In January 2020, commercial 5G services were extended to the cities of Jelgava and Daugavpils.
Tele2
Tele2 Latvia commercially launched 5G services in Daugavpils and Jelgava in January 2020. The operator said any customer with a compatible device could use the 5G network. Nevertheless, availability is very limited; each city has only two live 5G base stations.
Romania
Vodafone
Vodafone launched 5G services in Romania on 26 June 2019 in areas of three cities. Customers could choose two 5G plans: The Red Infinity 17 with unlimited 5G data at EUR 17 per month and Red Infinity 25 with unlimited 5G data and more services at EUR 25 per month. The Huawei Mate 20x 5G is available to users.
Digi
RCS&RDS (Digi) announced its first 5G commercial service in June 2019, in areas of six cities. The company offers two 5G compatible smartphones: the Xiaomi Mi Mix 3 5G and the Huawei Mate 20x 5G.
Orange
In November 2019, Orange Romania launched 5G in Bucharest, Cluj-Napoca and Iasi.
Spain
Vodafone Spain launched its commercial 5G services at 3.7 GHz in 15 cities on June 15 with initial speeds of up to 1 Gbps (and 2 Gbps at YE2019): Madrid, Barcelona, Valencia, Seville, Malaga, Zaragoza, Bilbao, Vitoria, San Sebastian, La Coruna, Vigo, Gijon, Pamplona, Logrono and Santander. At launch, the service is reaching approximately 50% coverage in each of the 15 cities.
2. Rest of Europe
Norway
Telenor Norge begun offering a commercial 5G service in March 2020, becoming the first operator in the country to do so. Telenor said the new 5G network is initially available in eight locations across the country: Kongsberg, Elverum, Bodo, Askvoll, Fornebu, Kvitfjell, Spikersuppa (Oslo) and Trondheim.
Switzerland
In Switzerland, Sunrise announced partial 5G commercial launch in March 2019 and full launch in September 2019. Swisscom launched in April 2019. At launch, Swisscom's network encompassed 100 sites in 50 cities and villages. The Swiss operator is targeting more than 90 per cent population coverage by the end of the year.
United Kingdom
EE
EE in the UK launched 5G services on May 30 across six cities, including some areas of London, Edinburgh, Cardiff, Belfast, Birmingham, and Manchester. EE is launching its services with the OnePlus' 7 Pro 5G. Samsung's S10 5G, Oppo's Reno 5G, and the LG V50 ThinQ will also be available in June. Prices for EE's 5G plans start at GBP 54 (EUR 61) a month for 10GB of data, rising to GBP 74 (EUR 83) a month for 120GB. The operator said it expects customers to experience an increase in speeds of around 100-150Mbps. EE is using a Non-Standalone 5G New Radio deployment; from 2022, it will introduce the full 5G core network (5G Standalone version).
Three UK (FWA)
3 UK switched on its 5G fixed wireless access network, becoming the third of the country's operators to offer services over the new technology. The company turned on its 5G infrastructure in a small number of locations in central London and it's offering a 5G home hub at 35 GBP (38 EUR) per month.
3 UK's strategy centered on building on assets from fixed business UK Broadband it acquired in 2017. The operator plans to launch 5G mobile services in several locations by the end of the year.
Vodafone
Vodafone launched 5G services in the UK in July 2019 in seven cities. It plans to offer 5G services in twelve additional UK cities by ear-end 2019.
Vodafone is offering unlimited data on mobile three speed-tiered data plans. Pricing is then scaled on speed delivered rather than the volume of data used. The Unlimited Lite plan runs at 2Mbps and costs 23 GBP (25.63 EUR) a month. The Unlimited offers speeds at 10Mbps and cost 26 GBP (28.97 EUR) a month. Finally, the Unlimited Max runs at the fastest speed possible by the network and the device and costs 30 GBP (33.43 EUR) a month.
Telefonica (O2)
Telefonica (O2) became on October 17, the latest mobile operator to switch on its 5G network in the UK. Services are available in six cities and towns: Cardiff, Belfast, Edinburgh, Leeds, London, and Slough.
3. South Korea: all three players have launched 5G services
3.5 GHz and 28 GHz spectrum were auctioned off in South Korea in June 2018. SK Telecom, LGU+ and KT launched 5G services were launched in December 2018 for business customers and in April 2019 for residential users.  It is expected that the deployment of nationwide 5G networks will be fully completed in 2022 or 2023.
MNOs announced in July 2018 their intention to jointly launch 5G in March 2019. This intention arrived one year after a first agreement signed in April 2018 on a shared 5G deployment and network. This first agreement's intention aimed at avoiding a very costly launch campaign when 4G came to reality back in 2011 and generating heavy cost savings of nearly 1 billion USD over the next ten years.
KT revealed in its earnings statement that the company ended 2019 with a total of 1.42 million 5G subscribers. The telco said that total Capex in 2019 was 3.26 trillion KRW (2.35 billion EUR) and that KRW 2.2 trillion (1.59 billion EUR) was attributed to its 5G access network (68% of total Capex).
SK Telecom announced it ended 2019 with 2.08 million 5G subscribers. The country's larger operator by subscribers count expects to reach between 6 and 7 million 5G subscribers by the end of 2020. LG U+ reported that it closed last year with a total of 1.16 million 5G subscribers.
4. Australia
Telstra in Australia launched its 5G service at the end of May 2019 as it had switched on over 200 5G sites since August 2018. The 5G service covers 10 cities to date, including parts of Melbourne, Sydney, Canberra, Brisbane, Adelaide, Perth, Hobart, Launceston, Toowoomba, and the Gold Coast. 25 additional cities will be lighted in the next 12 months including the major regional cities in Australia.
Telstra launched its services with the HTC 5G Hub hotspot and the Samsung Galaxy S10 5G. These devices were followed by the OPPO Reno 5G, expected on 11 June. The 5G service was initially available as a free trial but the company planned to charge an extra 15 AUD per month (9.3 EUR/month).
The operator previously acquired spectrum in the 3.6GHz auction for AUD 386 million (EUR 240 million), giving it 60MHz of contiguous 5G spectrum in all major capital cities and between 50 MHz and 80 MHz in regional areas.
Optus announced the commercial launch of 5G mobile and 5G residential fixed broadband services covering selected areas. 290 5G network sites went live and 1,200 sites were planned by March 2020.
5. Japan
Historically, Japan has been at the forefront of mobile technology. Japan originally targeted the Tokyo summer Olympic Games, which have now been postponed due to COVID-19 pandemic from 2020 to 2021, to launch 5G. However, NTT DoCoMo announced it could pre-launch 5G in September 2019 with plans to deploy commercial 5G services across Japan by mid-2020. KDDI also intends to soft-launch by year-end 2019 with a full launch in 2020. Softbank intends to launch 5G by 2020. Rakuten Mobile was planning to launch its service in 2019 starting with 4G, with 5G following a few months later. After a few months of pre-commercial service, Rakuten Mobile launched its 4G commercial service in April 2020 with 5G service expected in 2021.
In April 2019, The Ministry of Internal Affairs and Communications (MIC) assigned spectrum in the 3.7 GHz, 4.5 GHz and 28 GHz bands to all MNOs in Japan. NTT DoCoMo received 3.6-3.7 GHz, 4.5-4.6 GHz and 27.4-27.8 GHz spectrum. KDDI got 3.7-3.8 GHz, 4.0-4.1 GHz and 27.8-28.2 GHz frequencies. Softbank was assigned 3.9-4.0 GHz and 29.1-29.5 GHz spectrum. Rakuten was issued 3.8-3.9 GHz and 27-27.4 GHz spectrum.
NTT DOCOMO
NTT DOCOMO launched Japan's first 5G smartphone service on March 25, 2020. The network is live in 150 areas in Japan covering 29 of the nation's 47 prefectures. Customers can get 100GB of data for 7 650 JPY (62 EUR) per month, excluding taxes.
KDDI
KDDI launched 5G mobile services in 15 of Japan's 47 prefectures on March 26, 2020. The operator said it aims to install 10,000 base transceiver stations by 31 March 2021 and another 10,000 BTS by the end of March 2022. Customers can access the 5G network with an unlimited data plan costing JPY8, 650 (USD78.1) per month and the option of Netflix and Apply Music streaming.
SoftBank
SoftBank turned-on its 5G network on March 27, 2020. 5G mobile services are available in selected areas in seven prefectures across Japan for an additional charge of 1 000 JPY (8 EUR) per month. The operator aims to install over 10,000 5G base stations by the end of March 2023 and expects 90% of the Japanese population to have access to 5G by the end of 2021.
The Ministry of Internal Affairs and Communications plans to start allowing certain 4G frequencies to be converted to 5G this summer, which would let providers use existing base stations to power 5G networks.
6. China
In December 2018, China issued test licences to players for national 5G trials until June 2020 (China Telecom: 3.4-3.5 GHz, China Unicom: 3.5-3.6 GHz, 260 MHz on 2515-2675 MHz and 4800-4900 MHz). The country awarded four 5G licences to China Mobile, China Unicom, China Telecom and China Broadcasting Network, earlier in June 2019, faster than anticipated.
China Telecom and China Unicom reached a tentative agreement to jointly build a 5G network and share network infrastructure.
China Mobile, China Telecom and China Unicom launched 5G services on November 1st, 2019. The operators unveiled their monthly 5G packages. Price plans are quite similar among the three MNOs. Entry-level plans cost 129 CNY (16 EUR) per month and offer 30GB data with 300 Mbps of download speeds and 500 minutes of voice and. Most expensive plans cost 599 CNY (76 EUR) and offer 300GB of data with download speeds of up to 1Gbps. Only high-end price plans offer 5G-like speeds.
Each player has activated their network in 50 cities at launch, including Beijing, Shanghai, Guangzhou, Shenzhen, Hangzhou, Nanjing, Tianjin, Wuhan, Jinan, and Zhengzhou. Authorities said they plan to install over 50,000 5G base stations across the country by the end of 2019. Shanghai had activated 11,859 5G base stations by mid-October, in key outdoor areas.
China Mobile, published that it signed up 15.4 million "5G Package Customers" by the end of February 2020, excluding IoT subscribers. The company is targeting 70 million 5G subscribers in 2020, and 100 million self-brand and third-party 5G smartphones sells in 2020. The operator said it will launch 5G services in all cities above the prefecture-level in 2020, investing 20 billion CNY (2.6 billion EUR). This means that more than 340 cities across the country will open 5G networks.
In early October 2019, the three major mobile operators already registered almost 9 million 5G users before the official launch. China Mobile announced 5.32 million subscribers, China Telecom hit 1.76 million subs, and China Unicom was right in line with 1.75 million users. Each player activated their network in 50 cities at launch, installing over 50,000 5G base stations across the country by the end of 2019. We estimate that there were 10.7 million 5G subscriptions in China at the end of 2019.
7. USA: all major players have launched 5G services
Auctions for 28 and 24 GHz spectrum ended in January 2019 and May 2019 respectively. The upper 37 GHz, the 39 GHz and the 47 GHz auction began on time on December 10th, 2019. The bidding phase, or clock phase, ended on 5 March 2020 with gross bids totalling 7.6 billion USD.
Verizon
Before launching 5G services, Verizon performed several 5G trials. It launched 5G home service in October 2018 and 5G mobile services in April 2019. Since then, Verizon has increased its nationwide coverage.
Verizon 5G FWA service
Verizon 5G Home service was launched on 1 October 2018 in limited areas of four US cities (Houston, Sacramento, Indianapolis, Los Angeles). The service is also available other test location, including Atlanta, Brockton, Dallas, Bernardsville, Denver, Ann Arbor, Seattle, Miami, and Washington, DC. At launch, the service was charged at USD 70 per month (USD 50/month for existing customers). There are no annual contracts, no equipment charges and no data caps. For the first three months, an Apple TV or a Google Chromecast Ultra was offered for free (USD 40 after the first three months). At launch, speeds ranged from 300 Mbps to 1 Gbps, depending on location.
Verizon 5G Home customers have no data caps and can expect speeds ranging from 300 Mbps to up to around 1 Gbps, depending on location.
Verizon 5G mobile services
Verizon launched its 5G NR in selected areas of Chicago and Minneapolis in April 2019. This launch coincided with the offering of the new 5G moto mod, which was exclusive to Verizon. The 5G mobile network was available in about 34 U.S. cities as of March 2020. At launch, the company's 5G service plan came with unlimited data, available for USD 10 a month (with the first three months free) with any Verizon unlimited plan.
AT&T
Since early 2017, AT&T has been performing fixed wireless & mobile 5G trials in Austin, TX, Waco, TX, Kalamazoo, MI and South Bend, IN.  The company launched 5G mobile services in December 2018 in 12 cities (Atlanta, Charlotte, N.C., Dallas, Houston, Indianapolis, Jacksonville, Fla., Louisville, Ky., Oklahoma City, New Orleans, Raleigh, N.C., San Antonio and Waco, Texas).
AT&T's 5G service on the mm-wave spectrum is called 5G+ and it is available in 35 cities. The operator has also a low-band 5G network which works in 100 areas across the country.
At launch, the service was available with the Nighthawk hotspot device. It is charged at 499 USD upfront and a monthly USD 70 payment for 15 GB of data.
Sprint
Sprint launched 5G services in May 2019 in three cities (Atlanta, Dallas Fort Worth, and Kansas City). In July 2019, it extended services to Chicago and in September 2019 to selected parts of Los Angeles, New York City, Phoenix and Washington DC.
The service was initially available on two devices, the LG V50 ThinQ and the HTC 5G Hub. For USD 80 per month, Sprint's Unlimited Premium launch tariff was charged at 80 USD per month at launch.
The Sprint 5G Non-Standalone network is using 2.5 GHz spectrum and massive 128-antenna MIMO equipment to be able to operate 4G at the same time. The use of lower frequencies will allow Sprint to increase faster its coverage and at lower costs.
T-Mobile USA
T-Mobile USA signed in August 2018 two USD 3.5bn contracts with Ericsson and Nokia to support its nationwide 5G network deployment. Under the terms of the contract, Ericsson will provide T-Mobile with its 5G NR hardware and software, as well as Ericsson's digital services solutions.
In July 2019, T-Mobile USA pre-launched its 5G services in selected parts of six US cities (Atlanta, Cleveland, New York City, Los Angeles, Dallas, and Las Vegas) using 28 GHz frequencies.
On December 2, 2019 T-Mobile switched on its 5G network using the 600 MHz frequency band. The deployment is country's first nationwide 5G network, covering more than 200 million people and more than 5 000 cities and towns across the country. It should however be noted that data rates available with the 600 MHz spectrum alone is lower than the data rates provided by 4G services.
8. Other countries
Bahrain
Batelco and Viva announced that they had launched 5G services in June 2019.
Kuwait
All the three MNOs in Kuwait launched 5G services in July 2019.
Qatar
Ooredoo in Qatar claimed in May 2018 to be the first world player to launch 5G nationally with 50 sites registered late in July 2018 and 50 additional base stations to be added in August 2018. Ooredoo seems to be providing 5G wTTH (wireless To The Home) services in the 3.5 GHz spectrum range domestically with the very few compatible devices available (25 devices according to Gulf times).
Vodafone Qatar has also launched 5G services in August 2019.
UAE
Du announced the rollout in 2018 of a limited service of 5G. Du's announcement follows rival Etisalat's plans to roll out 5G commercial fixed devices in September 2018.
Du and Etisalat launched 5G mobile services in June 2019.
Saudi Arabia
The SA Kingdom set up a national 5G task force to prepare the foundations for a large scale 5G rollout before the end of 2019.
Since May 2017, CITC (Communications and Information Technology Commission) awarded 160 MHz of additional IMT spectrum in 700 MHz, 800 MHz, and 1800 MHz bands to mobile operators Mobily, STC and Zain.
CITC issued testing licences to all three operators in May 2018. The 3.6-3.8 GHz licences allow the MNOs to test 5G with 100 MHz of spectrum between June 2018 and year-end 2019.
Zain and STC launched 5G services in June 2019.
India
The Indian government is strongly backing 5G deployment but 5G is still in early stages of reflection.
The Department of Telecom (DoT) is harmonizing spectrum in the 3.3-3.6 GHz and 26 GHz bands, along with the 71-76 GHz, the 81-86 GHz and the 57-64 GHz frequencies as 5G candidate bands.
A reasonable target for 5G launch is 2022.