5G Products
Infrastructure ecosystem
Infrastructure equipment is probably even more important than devices in the early building of an ecosystem, as they are used to test the technology features and concepts, even as the technology is being standardized within 3GPP. Equipment vendors were early in announcing their effort in building 5G technology, often by announcing trials efforts with Mobile Network Operators and/or chipset manufacturers. Those demonstrations are often focused on pieces of technologies or concepts, such as Massive MIMO, the use of mmWaves in different mobility scenarios…
As industry efforts have now resulted in early (and accelerated) standardization of the technologies and as first operators are now preparing for network launch by the end of the year 2018 or early 2019, most equipment vendors have built and presented a 5G solution so that first network can start their deployment, even though commercial devices are not there yet.
Those solutions share more or less the same features, although each vendor has designed it solution around its main strength. These features are:
• 3GPP Release 15 compliance: Release 15 is the first official release of 5G. Before that, some equipment vendors have worked around not finalized version of the standard, or as is the case of network operator having built a pre-standard (such as Verizon with the 5GTF). As Release 15 of 3GPP has seen its specs frozen, infrastructure equipment now boast their full Rel. 15 compliancy.
• End to end offering: in the race to being the most advanced vendor, it is important to show full end-to-end product portfolio, which means a core network solution, a transport solution, a base-station adapted to different scenario (e.g. such as indoor or outdoor), and a "front-end" solution with diverse antenna solutions
• A (virtual) core network solution: It is built to be deployed in the cloud for maximum flexibility and to support the deployment of certain network functions at different places in the network, in centralized or more less distributed (up to the edge of the network) way
• Support for massive MIMO: Massive MIMO, beamforming, beam tracking and beam steering are key features to attain increased spectrum efficiency in 5G. The support of this feature is thus key for equipment vendors to assert 5G ambitions
• Support for sub 6 GHz and mmWaves: While mmWaves have received much of the attention in the race to 5G because of all the challenges associated in operating a radio network in these frequency bands (the 28 GHz notably), but C band below 6 GHz has also seen traction because of its roaming capabilities for 5G. In Europe, early deployments are likely to be in this band rather in the 26 GHz, because of its better coverage capabilities and the feeling of operators that they are not yet running out of capacity (as compared to the U.S. for instance).
5G chipsets
As of the end of August 2018, several 5G basebands have already been announced and should be integrated in products to be released as soon as in 2019 for the earliest device manufacturers.
Qualcomm, with its X50 modem, was the first to announce its initiative, back in the end of 2016 and is today probably the most advanced player in terms of product availability, probably followed by Samsung, who announced its 5G baseband in August 2018 but with a much more integrated offering. As compared to Qualcomm, Samsung is indeed proposing, what it considers as the first integrated multimode 2G/3G/4G/5G baseband. The Qualcomm X50 module must be used together with a 2G/3G/4G baseband for Non Standalone Operation.
Qualcomm and Samsung are not by far the only players to have announced their 5G initiative in terms of baseband. Intel, Huawei, through HiSilicon and Mediatek have also made their announcement. At the Mobile World Congress in February 2018, Huawei had announced, through its subsidiary Hi-Silicon, its own 5G baseband called Balong 5G01, a chipset that Huawei claimed to be the first 5G commercial chipset, a claim that is true if we consider it is effectively used in Huawei own 5G CPE but that doesn't reveal the level of maturity of the product. While both Qualcomm and Samsung chipset support throughput up to more than 5 Gbps in the mmWaves, Huawei Balong 5G01 currently supports a maximum throughput of 2.3 Gbps.
As for Intel and Mediatek both players seem to lag behind in terms of product readiness. At MWC 2018, Intel was showcasing a solution still based on FPGAs, highlighting the integration steps still required for readily available and embeddable silicon. Mediatek seems to be in comparable situation, although much less is known about the development status of its Helio M70 5G baseband.
5G devices
The release of 5G baseband and RF systems is the first step before commercial devices. Usually, when a new radio technology is released, basebands are developed and implemented in relatively simple devices such as mobile WiFi hotspots, before more complex devices such as smartphones, where integration is always more challenging. Before fully commercial devices can be made available, several steps are required.
The steps a device takes to market

With 5G, Fixed Wireless Access was one of the first use cases, rather than mobile usage and first commercial devices announced have been 5G home routers, such as the one announced by Huawei at MWC 2018 in Barcelona, or the one by Samsung. Those early devices have been more specifically designed for carrier partners Verizon in the US and in South Korea, and have already received their approval by the FCC.
Huawei and Samsung 5G home routers for 5G Fixed Wireless Access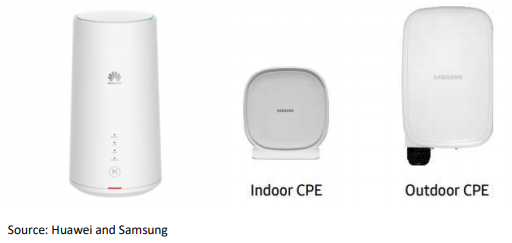 Those first devices are available in indoor and outdoor versions. Since then, however, the ecosystem has continued its expansion alongside that of the smartphone devices. An illustration of this is the announcement in October 2019 by Qualcomm that over 34 OEMs planned to use its X55 5G modem alongside a specifically designed for FWA antenna solution.
OEMs planning to launch Qualcomm based x55 5G FWA CPEs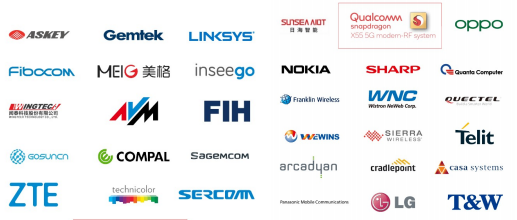 Source: Qualcomm
Smartphones and modules, most popular form factors indicate an already relatively rich ecosystem powered by 5G basebands
But since those early 5G devices designed for fixed wireless usage, the first mobile 5G networks have been launched in the world and the device ecosystem, thanks to the enabling basebands, has "considerably" widened. As of mid-December 2019, indeed, Gsacom reported 199 5G devices announced by 76 different vendors and 15 different categories of form factors, some of which are fairly similar. As a comparison, at the same time, Gsacom reported around 15,000 different LTE devices.
Simplified composition of the 5G device ecosystem as of December 2019
Distribution of 5G device ecosystem as of December 2019
The fact that smartphones are the 1st category of devices announced together with modules is a noteworthy fact. CPEs and modules, are usually the first devices to go to the market when a device ecosystem is building up but smartphones usually come afterward.
In detail, most of the devices launched in 2019 have been based on Qualcomm Snapdragon 855 along with an X50 modem but in 2020, most devices will be based on second generation 5G baseband and heated competition with first devices powered by Mediatek 5G solutions. While initial 5G devices often had either sub 6 GHz, either mm-wave RF system, 2020 should also see first mmWave+sub6 GHz devices. The reason for not including support for both frequencies is to be found in the different geographical/market choices regarding frequency bands for deployment, but also in the cost that those additional frequency bands incur. At this stage, the RF and antennas add a significant toll to the total Bill of Material (BOM) of 5G devices without even talking of power consumption, the time has not yet come for worldwide 5G devices supporting all the 5G frequency bands.
If we look at the price of 5G smartphones, they mostly come with a premium versus not 5G smartphones as it is exemplified with the Samsung Galaxy S10 5G. It should be noted that the 5G version of the S10 does come with more additional features than just the 5G connectivity. Eventually, what the analysis of Bill of Material and Average selling price shows is that even though the cost of the components is higher for the 5G variant of the smartphone, its selling price secures a higher margin for the device manufacturer today.
Tomorrow, as lower-tier 5G solutions are released on the market thanks to a wider 5G baseband/SoC portfolio, the premium price for 5G device should decrease. This decrease of price will come principally at this stage of cost optimizations and "reduced" 5G performance as compared to high-end 5G solutions as exemplified by the difference between the Snapdragon 765 and the x55 modem that is found in the snapdragon 865. The 5G performance of the Snapdragon 765 is still far better than the
best 4G possible performance, topping at a theoretical downlink throughput of 3.2 Gbps but is still below the 7.5 Gbps that the x55 is capable of. Of course, this differentiation doesn't really matter when the capabilities of the network do not even match this level of throughput.
"5G ready" smartphones are going to be marketed
An interesting thing to notice is the fact that because of longer replacement rate in some countries (closer to 4-5 years than 2 years) for smartphones, some MNOs will rather sell 5G-ready devices (i.e. devices supporting 5G even though 5G has not yet been deployed in the network) than 4G only device. The rationale for this carrier demand is to be able to switch as many users as possible on the less-costly 5G network when it is deployed. In countries where 5G launch are imminent, the same decision could be taken by operators and also device manufacturers that want to be able to respond to the consumer demand not to invest in 4G phones when 5G is coming soon.