5G Products
5G chipsets, devices and network equipment: a very dynamic market
In recent months, the 5G chipset market has evolved quite a bit with major 5G baseband vendors announcing a second generation of chipset followed by a third generation for the most advanced players, new players emerging, one old player leaving the 5G baseband market (Intel) and another one threatening the future development of its chipset portfolio. The development status of those chipsets varies quite a lot. As of the end of March 2020, around 17 5G chipsets had been in development or released but at the end of March, only 10 chipsets could be considered as commercially available (three from Qualcomm, three from Huawei, 3 from Samsung and one from Mediatek). As of end of last September, we reported only 5 of them and only 8 at the end of December 2019. Of all the products announced, it is sometimes unclear whether they are a new product in development or just a renaming of an existing 5G chipset in development.
1. Overview of the 5G baseband market as of March 2020: Qualcomm still leading
Three players already with a second-generation 5G chipset
Presentation of announced 5G chipsets
Vendor

Product name

Announce-  ment date   

Availability  

Throughputs  

Comments

Qualcomm
X50 (baseband)
First announced in 2016
End of 2018
Up to 5 Gbps
Discrete  baseband, need to be implemented with 2G/3G/4G baseband. 18 OEM announced to use X50
Qualcomm
X55 (basebands)
February 2019
Expected to ship in 2H 2019
Up to 7 Gbps in the DL, 3 Gbps in the UL
Now support FDD in sub 6 GHz with up to 200 MHz bandwidth
Qualcomm
X60 (basebands)
February 2020
Sampling in Q1 2020 for 1st commercial smartphone early 2021
Up to 7,5 Gbps in the DL, 3 Gbps in the UL
5nm baseband, support Sub6 GHz and mm-wave, NSA and SA, 2CCA, mm-wave + Sub6 CA, DSS, VoNR
Qualcomm
X52 (basebands)
December 2019
up to 3.2 Gbps / 1.6 Gbps
Not sold as discrete 5G modem
Qualcomm
Snapdragon 765 and 765G
December 2019
Q1 2020
up to 3.2 Gbps / 1.6 Gbps
based on Qualcomm x52 5G modem
Qualcomm
Snapdragon Serie 6
Not yet announced
to be announced in 2020
NA
Even lower range 5G modem
Samsung
Exynos 5100
August 2018
End of 2018
up to 2 Gbps in sub 6 GHz and 6 Gbps in mmWaves
Integrated multimode 2G/3G/4G/5G chipset, built on 10nm process, fully compatible with 3GPP Release 15
Samsung
Exynos 5123
October 2019
mass production expected to begin by the end of 2019
up to 7.35 in mm-wave and 5.1 GHz in sub-6 GHz. LTE: 3 Gbps/422 Mbps
Built using a 7nm EUV process. It also support 1024 QAM in 4G
Samsung
Exynos 980
September 2019
Mass production by the end of 2019 and devices available in the beginning of 2020
Up to 2,5 Gbps/1,28 Gbps and up to 3,55 Gbps through LTE/5G Dual connectivity
SoC with integrated 5G baseband
Hi-Silicon
Balong 5G01
February 2018
End of 2018
Up to 2.3 Gbps
Only for Huawei products, designed for fixed 5G devices. 5G only
Hi-Silicon
Balong 5000
January 2019
Up to 4,6 Gbps at sub 6GHz and 6,5 Gbps on mm-waves
Dubbed as the first single chip multi-mode modem (2G/3G/4G/5G) and first to support 2CC of 100MHz
Hi-Silicon
Kirin 990 5G
sept-19
End of Q4 2019/2020
Up to 2,3 Gbps/1,5 Gbps
Mass production thought to start in Q3 2019, along the introduction of the Huawei Mate 30 model
Mediatek
Helio M70 (MT6885)
June 2018
2019-2020
Up to 4,7 Gbps (DL) / 2,5 Gbps (UL)
Standalone modem. Devices powered by Helio M70 to be available in early 2020 while being sampled in Q3 2019. Partnership with China Mobile. It will use 7 nm EUV process from TSMC
Mediatek
Dimensity 1000L SoC / MT6885 based on Helio M70
May 2019
sampling in Q3 2019, available in devices in Q1 2020
Up to 4,7 Gbps (DL) / 2,5 Gbps (UL)
5G SoC with a Helio M70 integrated. First commercial devices launched on 27th of December, 2019 with the Oppo Reno 3 in China. It is a lower performance version of the Dimensity 1000 to be released later
Support mm-wave bands and sub 6GHz, 2CCA , SA and NSA
Mediatek
Dimensity 800 SoC
January 2020
First devices to be launched during H1 2020 but may slip in H2 with COVID-19
n/a
Multimode 5G SoC to power Premium mid-range devices. Support 2 carrier aggregation, NSA and standalone, only sub 6 GHz, DSS, VoNR
UniSOC (Spreadtrum)
Makalu Ivy510
February 2019
2020 (testing completed in China in November 2020
n/a
Previous technological development agreement with Intel but the partnership is over now. To be found in mid-range smartphones in China in 2020. It will also be found in CPEs and modules and in devices from Verve Connect in Europe
U-Blox
UBX-R5 IoT chipset
June 2019
5G software update realease date unkown
n/a
 Will support 5G through an OTA update
Source: IDATE DigiWorld
Those chipsets seem fairly similar on the paper, with support for 5G NR radio interface, both in Non Standalone (NSA) and SA (Standalone), 256 QAM modulation in the downlink and support for both sub-6 GHz frequency bands and mm-wave bands. Because more bandwidth is available in the mm-wave bands than in the sub-6 GHz band, possible performance differs depending on the frequency band used. In detail though, not all those chipsets are similar with sometimes little difference, sometimes bigger difference that hint at a more complicated situation.
Unlike in the early days of 4G, the 5G baseband offering is much more interesting. Qualcomm is leading the market, being the first to announce and make its 5G baseband commercially available and after releasing its first fully multimode 5G/4G/3G/2G modem X55, now to be found in commercial devices, it is releasing an integrated 5G SoC with the Snapdragon 765 and 765G and has announced in February 2020 its third generation of 5G modem with the x60, that will notably bring the possibility to aggregate mm-wave and sub 6 GHz frequency bands. This is something that was not possible before despite the fact that most of the premium baseband supported both mm-wave bands and sub 6 GHz. At the end of October 2019, Qualcomm said it already had 230 5G devices from more than 40 OEMs announced or in development with Qualcomm 5G silicon. Based on data from GSAcom from end of August 2019, 71 announced 5G devices were based on Qualcomm 5G baseband (57%), while 11 (9%) were on Huawei, 2 (2%) on Mediatek and 1 (1%) on Samsung. As compared to the end of May, Qualcomm had the biggest growth of device announcements. It should however be reminded that quite a big share of device announced (31%) could not be associated with a specific 5G baseband name.
Number of 5G devices powered by baseband vendors
| | |
| --- | --- |
| Baseband vendor     | Number of devices |
| Qualcomm | 71 |
| No data | 39 |
| Huawei | 11 |
| Samsung | 1 |
| Mediatek | 2 |
Source: IDATE DigiWorld
Those figures are not surprising, as Huawei and Samsung have been initially developing their own baseband for their own devices both to reduce their dependence on other silicon manufacturer and to increase their differentiation capabilities through deeper integration between hardware and software. While those figures still highlight the dominance of Qualcomm on the market, the simple fact that those players were able to develop their own 5G baseband to be used on their flagship devices is a telling example of the progress they have made as compared to 10 years ago. In addition to using their own baseband or SoC in their devices (e.g. Huawei is using its Balong 5000 in numerous 5G CPE and dongles as well as in its own smartphones such as the Mate X, the Mate 20x 5G while its integrated 5G SoC power the Mate 30 5G and Mate 30 Pro), those players are also trying to sell their 5G silicon to OEMs. In November 2019, Vivo notably announced that its x30 smartphone would be powered by Samsung All-in-One 5G chipset Exynos 980.
Although Qualcomm certainly has a market and technological maturity that other players still have to demonstrate, both Huawei and Samsung show promising progress. Qualcomm x50 initial 5G baseband indeed was a discrete 5G only modem that has to be paired with a 2G/3G/4G modem to work and while supporting both mm-wave and sub-6 GHz spectrum with associated RF components, only TDD mode in the sub 6 GHz band was supported. Qualcomm x55 announced at MWC 2019 was in essence the first complete 5G solution from Qualcomm with integrated support for both 2G/3G/4G/5G, FDD and TDD mode in the sub 6 GHz and support for 2 Carrier Aggregation of 100 MHz in the sub 6-GHz. The associated RF components also come with the support for the 26 GHz mm-wave band that will be used in Europe notably and is able to support the 28 GHz band if necessary. This new baseband is now powering the new 5G devices that are being launched right now. Newly announced x60 should power devices as soon as early 2021.
Similarly, Huawei has announced its second generation of 5G baseband with similar improvement to a somewhat limited 1st generation. Announced in January 2019, one month before Qualcomm X55, Huawei boasted to be the 1st to release a full multimode 5G chipset as well as capable of supporting 2 carrier aggregation in the sub 6GHz to support up to 4.6 Gbps[1]. Samsung with its Exynos 5100 had a multimode 5G modem but did not support 2 CA in the sub 6 GHz spectrum until it announced the Exynos 5123 in October 2019. This modem, to be paired with Samsung Exynos 990 SoC, which does not have integrated cellular connectivity, will support up to 7.35 Gbps in mm-wave, on pair with Qualcomm x55 and up to 5.1 Gbps in sub 6 GHz.
New baseband ahead, from other players
If Qualcomm, Huawei and Samsung are the top three 5G baseband players, two other vendors (excluding Intel that dropped the 5G baseband market) have announced 5G solutions, Mediatek and UniSoC. Mediatek, after announcing the Helio M70 back in June 2018 announced its integrated 5G SoC in May 2019 and has seen its first OEM commercial product launched at the end of December 2019 with the Oppo Reno 3 that is being sold in China. With this mid-tier solution, Mediatek is well geared too to increase its position in the 5G device market and it also announced its lower tier 5G solution at CES in January 2020 with first commercial devices to be launched during the 1st half of 2020 (but that may very well slip in H2 due to COVID-19 epidemic).
As for Unisoc which announced the Makalu Ivy510 at MWC 2019, it is targeting the (Chinese notably) mid-tier smartphone and IoT market. Unisoc was previously known as Spreadtrum and had development partnership with Intel for LTE chipset for Chinese device but the partnership over 5G has been dropped and Unisoc is now following its own route with a commercial availability for early 2020.
… and Intel, quitting the 5G smartphone modem market
In April 2019, as Qualcomm and Apple announced they had dropped all litigation worldwide and reached a 6-year license agreement together with a multi-year chipset supply, Intel followed with the announcement that they would quit the 5G smartphone modem market. Intel had announced two 5G basebands in November 2017 and 2018, the second one believed to replace the first one, but although Intel stated that those products would be available during the 2nd half of 2019, there was skepticism on its ability to achieve this timeline. Reportedly, Intel had difficulties in developing its 5G smartphone baseband and faced multiple delays in the development of their 5G offering.
In a context of severe legal battle with Qualcomm over IP licensing and royalties, Apple had tried to diversify its sourcing of 5G connectivity solutions and was known as Intel's (by far) biggest customer for cellular baseband. Because of Intel delays in the development of its 5G solution and market pressure for Apple to develop a 5G iPhone, Apple saw the solving of its dispute with Qualcomm as the most relevant way of solving this issue. This, plus Intel's difficulties in its development led Intel to leave the 5G baseband market, reportedly focusing on network infrastructure instead.
This news is of particular interest in the development of the 5G device ecosystem. Despite the supply agreement with Qualcomm, Apple is believed to be continuing the development of its own 5G chipset, something that will still take time for Apple, 2023-2025 being the horizon often mentioned by analysts for an Apple modem to reach a commercial iPhone. At the end of July 2019, Apple purchased most of Intel 5G business for that matter for 1 billion USD. This will enable Apple to integrate its modem more closely in its own Ax SoC and thus reduce power consumption and release place for other component thanks to the reduced footprint within the device.
In the meantime, Apple is developing its next flagship iPhone based on Qualcomm 5G modem, likely a x55 modem. Recently, rumors emerged over the willingness of Apple to develop its own antenna system instead of Qualcomm antenna module. Because of the COVID-19 outbreak, the release of one of the last major smartphone model not yet supporting 5G could slip latter in the year.
The uncertain future of Huawei chipsets
As a result of the trade war between China and the US, Huawei telecom products were banned in the US. While this interdiction will directly affect only the US and considerably disrupts Huawei's ambition to become the n°1 smartphone manufacturer in the world, it may more generally affect the development of Huawei smartphones as the sale of American technology to Huawei has also been made illegal. A direct consequence is the inability for Huawei to use Google Android and associated services (leaving Huawei with AOSP, the open source version of Android) in the short term. This has notably caused the new Mate 30 Pro, announced in September 2019 to come without any Google service and the same is now happening with the more recently announced P40 pro, two devices that will be powered by the Kirin 990 5G SoC.
But beyond the uncertainty raised by the absence of Google Play and Google services on Huawei devices is the more important issue of the continuation of the development of its own chipset through its silicon company HiSilicon if no agreement is found. Indeed, Huawei, as every smartphone vendor, heavily relies on ARM IP design for the development of its chipset and while still unclear in the detail, ARM has reportedly decided to stop any contact with Huawei, some of its IP design and tool originating from the US, before restarting limited contact with the Chinese firm. While Huawei will be able to leverage the IP and tools it has already got from ARM, it may have to completely rethink the design of its chipset, should this ban continue to be implemented. In the short term this is not an issue as Huawei can rely on its existing generation of chipset but this may be a sizeable issue in the future, especially for its flagship devices.
As of end of March 2020 and since the end of October 2019, ARM has started again to work with Huawei, following an internal report stating that ARM IP licensed to Huawei was from the UK, not the US. This at least secure Huawei ability to continue to develop its next generation SoC based on ARM latest IP.
Mid-range 5G chipsets on their way
In 2020, 5G chipsets will continue their expansion in lower-tier smartphone with the announcement of the Snapdragon 765 et 765G in December 2019, which will sport an integrated 5G modem contrary to Qualcomm flagship chipset, the Snapdragon 865. In order to maintain a right Bill of Material for its mid-tier platform Qualcomm also created a new baseband, the X52, that is not as powerful as the x55 that was announced in February 2019.  Indeed, this x52 support half the throughput of the x55 that will be paired with the Snapdragon 865 because of a capability to aggregate only half of the spectrum that the x55 is capable of aggregating. As an example, the x55 can aggregate up to 800 MHz in the mm-wave (8×100 MHz) while the x52 in the SD 765 can only aggregate 400 (4×100 MHz). The same goes with sub-6 GHz where the x55 can aggregate up to 2×100 MHz vs 100 MHz for the x52. In the end, what this choice reveal is the strategy to streamline 5G support down the tier-range.
In a context of increased competition on the 5G chipset (and despite few of them being used in commercially launched devices) market Qualcomm had previously announced that it would bring 5G connectivity to its Snapdragon 6xx and 7xx series in 2020. With the announcement of those two new 5G SoC, other chipsets in the Snapdragon 6xx series remain to be announced in 2020.
In a similar move, Mediatek, which saw its first commercial device (the Oppo Reno 3) powered by its 5G chipset on the 27th of December, 2019 announced that it intended to launch another 5G chipset for mid-range devices in 2020. This chipset, codenamed MT6873 (commercial name Dimensity 800) will start mass production in Q2 2020 for availability in commercial devices in Q3 2020.
As an indication of 5G smartphone ecosystem evolution, while the average selling price of 5G smartphone was around 650 EUR in China in 2019, low-end 5G smartphone around 130 EUR could see the light of day by the end of 2020 according to Huawei.
2. In 2020, a very significant number of 5G devices will be available for all markets
The release of 5G baseband and RF systems is the first step before commercial devices. Usually, when a new radio technology is released, basebands are developed and implemented in relatively simple devices such as mobile WiFi hotspots, before more complex devices such as smartphones, where integration is always more challenging. Before fully commercial devices can be made available, several steps are required.
The steps a device takes to market

This time, with 5G, Fixed Wireless Access was one of the first use cases, rather than mobile usage and first commercial devices announced have been 5G home routers, such as the one announced by Huawei at MWC 2018 in Barcelona, or the one by Samsung. Those early devices have been more specifically designed for carrier partners Verizon in the US and in South Korea, and have already received their approval by the FCC.
Huawei and Samsung 5G home routers for 5G Fixed Wireless Access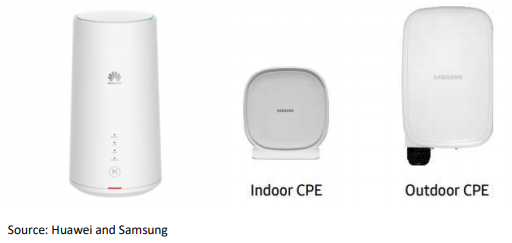 Those first devices are available in indoor and outdoor versions. Since then however, the ecosystem has continued its expansion alongside that of the smartphone devices. An illustration of this is the announcement in October 2019 by Qualcomm that over 34 OEMs planned to use its X55 5G modem alongside a specifically designed for FWA antenna solution.
OEMs planning to launch Qualcomm based x55 5G FWA CPEs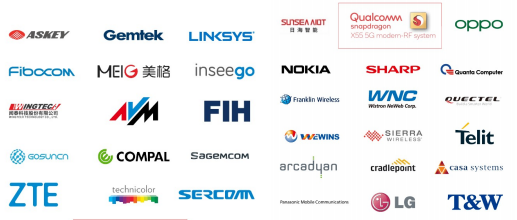 Source: Qualcomm
Smartphones and modules, most popular form factors indicate an already relatively rich ecosystem powered by 5G basebands
But since those early 5G devices designed for fixed wireless usage, the first mobile 5G networks have been launched in the world and the device ecosystem, thanks to the enabling basebands, has "considerably" widened. As of mid-December 2019, indeed, Gsacom reported 199 5G devices announced by 76 different vendors and 15 different categories of form factors, some of which are fairly similar. As a comparison, at the same time, Gsacom reported around 15,000 different LTE devices.
Growth of announced 5G devices (not all commercially available) as of March 2020 as tracked by Gsacom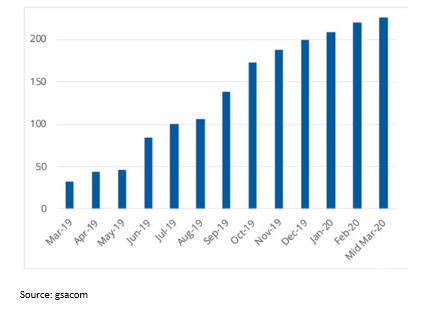 Simplified composition of the 5G device ecosystem as of December 2019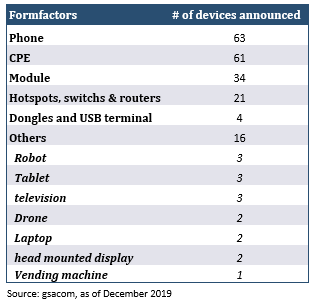 Distribution of 5G device ecosystem as of December 2019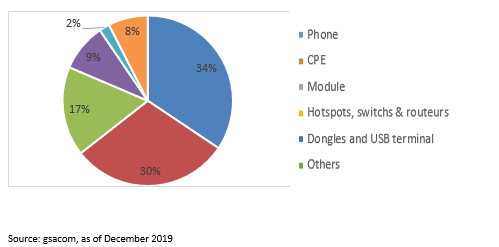 The fact that smartphones are the 1st category of devices announced together with modules is noteworthy. CPEs and modules, are usually the first devices to go to the market when a device ecosystem is building up but smartphone usually come afterwards.
In detail most of the devices launched in 2019 have been based on Qualcomm Snapdragon 855 along an X50 modem but in 2020, most devices will be based on second generation 5G baseband and heated competition with first devices powered by Mediatek 5G solutions. While initial 5G devices often had either sub-6 GHz, or mm-wave RF system, year 2020 should also see first mm-wave + sub-6 GHz devices. The reason for not including support for both frequencies is to be found in the different geographical/market choices regarding frequency bands for deployment, but also in the cost that those additional frequency bands incur. At this stage, the RF and antennas add a significant toll to the total Bill of Material (BOM) of 5G devices without even talking of power consumption, time has not yet come for worldwide 5G devices supporting all the 5G frequency bands. One important aspect, though, is that 5G devices that will be released in 2020 will support sub 6GHz FDD and not just TDD. While TDD mode is important for mid and high frequency bands, FDD is key for lower frequency bands (those frequency bands used for 2G, 3G and 4G). While those bands will support more limited throughput, they will be key for 5G roaming, as operator will be vying for expanded coverage and 5G SA deployments.
If we look at the price of 5G smartphones, they mostly come with a premium in comparison to non 5G smartphones for example in case of Samsung Galaxy S10 5G. It should be noted that the 5G version of the S10 does come with more additional features than just the 5G connectivity. Eventually, what the analysis of Bill of Material and Average selling price shows is that even though the cost of the components is higher for the 5G variant of the smartphone, its selling price secures a higher margin for the device manufacturers today.
Comparison of BOM and ASP (average selling price) of 5G and non 5G variant of the Galaxy S10

Tomorrow, as lower-tier 5G solutions are released on the market thanks to a wider 5G baseband/SoC portfolio, the premium for 5G devices should decrease. This decrease of price will come principally at this stage of cost optimizations and "reduced" 5G performance as compared to high-end 5G solutions as exemplified by the difference between the Snapdragon 765 and the x55 modem that is found in the snapdragon 865. The 5G performance of the Snapdragon 765 is still far better than the best 4G possible performance, topping at a theoretical downlink throughput of 3.2 Gbps but is still below the 7.5 Gbps that the x55 is capable of. Of course, this differentiation doesn't really matter when the capabilities of the network do not even match this level of throughput.
"5G ready" smartphones are going to be marketed
An interesting fact is that because of longer replacement rate in some countries (closer to 4-5 years than 2 years) for smartphones, some MNOs will rather sell 5G-ready devices (i.e. devices supporting 5G even though 5G has not yet been deployed in the network) than 4G only device. The rationale for this carrier demand is to be able to switch as many users as possible on the less-costly 5G network when it is deployed. In countries where 5G launch is imminent, the same decision could be taken by operators and also device manufacturers wanting to be able to respond to the consumer demand not to invest in 4G phones when 5G is coming soon.
The 3.5 GHz frequency band, not mm-wave is the most popular frequency range for 5G
Despite much noise around mm-wave bands deployment abroad, the sub-6 GHz device ecosystem is doing strong and especially the 3.5 GHz band which provides interesting capabilities with a mix of coverage and capacity when wide bandwidth configuration are used (100 MHz). More precisely, the n78 band (3.5 GHz) is the most popular frequency band in terms of devices announced mirroring the sizeable number of network believed to use this frequency band. Given the wide availability of that band worldwide, this is not a big surprise but definitely an interesting fact for European 5G networks. While not providing as much bandwidth as mm-wave bands (largest possible bandwidth configuration is 100 MHz), it can provide a much larger coverage. As compared to lower frequency bands, it still supports higher capacity and is better suited to massive MIMO deployment in the field because of the much smaller antennas required.
Thanks to features such as Dynamic Spectrum Sharing, a 5G device ecosystem for "legacy frequencies" is also  being built with devices announced supporting several of those bands (such as the much used 1800 MHz, 2100 or APT 700 MHz) and even though no 5G network have been yet deployed in those bands. In one quarter, the number of devices supporting those frequency bands has grown substantially indicating a clear interest from operators in those frequencies as they prepare to leverage their existing asset in complement to mid frequency band.
Not surprisingly, much of the mm-wave device ecosystem is driven by the need to support US 5G networks but this will gradually change in 2020 as use of other mm-wave band use occurs in countries such as Korea and Japan. While no devices had been announced for the n258 (26 GHz) band in December 2019, (the mm-wave frequency of choice in Europe and China for latter deployments), this band has humbly jumped from 0 to 3 devices, which for now remains marginal.
Distribution of announced 5G devices by range of frequency band

3. Infrastructure ecosystem
Infrastructure equipment is probably even more important than devices in the early building of an ecosystem, as they are used to test the technology features and concepts, even as the technology is being standardized within 3GPP. Equipment vendors were early in announcing their effort in building 5G technology, often by announcing trials efforts with Mobile Network Operators and/or chipset manufacturers. Those demonstrations were often focused on pieces of technologies or concepts, such as Massive MIMO, the use of mm-wave in different mobility scenarios…
As industry efforts have now resulted in early (and accelerated) standardization of the technologies and as first operators have now started the launch of their 5G networks, all equipment vendors have built and presented a 5G solution/
Those solutions share more or less the same features, although each vendor has designed its solution around its main strength. These features are:
3GPP Release 15 compliance: Release 15 is the first official release of 5G. Before that, some equipment vendors have worked around draft versions of the standard, or as is the case of network operators having built a pre-standard (such as Verizon with the 5GTF). As the Release 15 of 3GPP has seen its specs frozen, infrastructure equipment now highlights their full Rel. 15 compliancy.
End-to-end offering: in the race to being the most advanced vendor, it is important to show full end-to-end product portfolio, which means having a core network solution, a transport solution, a base-station adapted to different scenarios (e.g. such as indoor or outdoor), and a "front-end" solution with diverse antenna solutions.
A (virtual) core network solution: this is built to be deployed in the cloud for maximum flexibility and to support the deployment of certain network functions at different places in the network, in a centralized or more or less distributed (up to the edge of the network) way.
Support for massive MIMO: Massive MIMO, beam forming and beam tracking and beam steering are key features to attain increased spectrum efficiency in 5G. The support of this feature is thus key for equipment vendors to assert 5G ambitions.
Support for sub 6 GHz and mm-wave: while mm-wave has received much of the attention in the race to 5G because of all the challenges associated in operating a radio network in these frequency bands (the 26 and 28 GHz bands notably), but C band below 6 GHz has also seen traction because of its roaming capabilities for 5G. In Europe, nearly all 5G deployments that have already taken place have been in this band rather than in the 26 GHz band, because of its better coverage capabilities and the feeling of operators that they are not yet running out of capacity (as compared to the USA for instance).
Below, we present the 5G portfolio of each equipment manufacturer. Their claim is often similar and as for device baseband, those claims can be seen through different angles. Table 13 below summarizes what stands out from each vendor solution:
Infrastructure equipment 5G solutions from major vendors

Release 16 and Release 17 of 3GPP specifications will bring enhancements and the 5G Stand Alone (SA) core network specifications. Stage 3 Release 16 specifications should now be finalized in June 2020, and the proposed date for Release 17 shifted to December 2021. The final version of Release 16 is going to provide evolutions of 5G networks' efficiency, including power consumption and mitigation of interference with enhanced MIMO, self-organizing networks and enhanced Dual Connectivity. It will also specify new Application Programming Interface (API) frameworks, access to unlicensed spectrum, enhancements to protocols for Vehicle-to-everything (V2X) and industrial IoT applications. Release 17 should probably deal with further Radio Access Network upgrades, update existing protocols and further new technologies.
A significant evolution of the mobile network with the advent of virtualization is the ability for mobile operators to use new network equipment providers and, according to its promoters, reduce CAPEX/OPEX and facilitate automation of the 5G network. Virtualization enables to separate the control and data plans and to run specific 5G software programs upon off-the shelf hardware such as servers, routers, processors… New players in this field are Mavenir, Parallel Wireless, Altiostar… They are making inroads with MNOs such as Telefonica and Vodafone in Europe and greenfield operator Rakuten Mobile in Japan.