Major European 5G Trials and Pilots
This page lists 5G trials that have been publicly announced in EU27, UK, Norway, Russia, Switzerland and Turkey 
All the content is based on publicly available information and does not claim to be exhaustive. Please send inputs to info@5gobservatory.eu for this list to be updated.
As many as 245 trials have been listed as of December 2020. The share of technical tests dropped significantly in the past year as several mobile operators have already launched 5G commercial services and others are planning 5G network deployment for 2021. Last trimester, pilots involving verticals and standalone architecture increased.
Media and automotive are the verticals majorly driving trials
The most trialled verticals are media and entertainment (39 trials) followed by transport (33 trials) and automotive (23 trials).
The 245 trials were conducted in 31 countries (199 trials in 27 of the 27 EU MSs and the UK and 46 in Russia, San Marino, Norway, Turkey, and Switzerland). No trials have been registered so far in the following Member States: Cyprus, and Slovenia
Verticals tested in 5G trials

Source: IDATE DigiWorld, December 2020
The most numerous trials performed in Spain, Germany, and Italy.
Trials have been the most numerous in Spain, Germany, Italy, and Russia. The top four biggest economies in the European Union (Germany, France, Italy, and Spain) are totalling 38% of trials, reaching 46% when the UK is included. Spain remains the country with more trials and Germany ranks second.
5G trials by country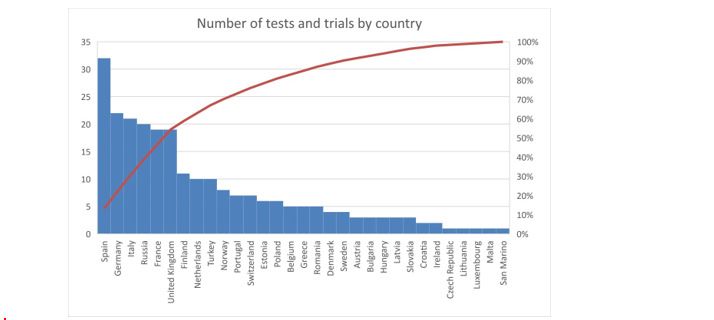 Source: IDATE DigiWorld, December 2020
The 3.4-3.8 GHz band still is the most tested frequency band by far (70% of the trials).
When indicated (frequency bands tested are available only in selected trials, representing 48% of all trials listed), the most used frequency band for trials is by far the 3.4-3.8 GHz (82 trials tested the 3.4-3.8 GHz frequencies out of 117 trials mentioning which band was considered). The 28 GHz band is the second band with more tests, 13 tests in total. The 26 GHz band has been used in 7 tests.
Country :
Operators :
Manufacturers :
Frequencies :
Vertical :
* Code for level of maturity as follows: [1] most important (2 cell sites), [2] other pilots, [3] smaller tests
Country
Date of
announcement
Operators
Manufacturers
Frequencies
Verticals
Additional Stakeholders
5G Trialed Functionalities
Level of maturity*
Informations
Source
Austria

february 2018
T-Mobile

Huawei

3.4 - 3.8 GHz

2

T-Mobile Austria has installed two tower sites in Innsbruck for a live trial of a pre-version of the final 5G standard. The operator achieved transmission rates of 2Gbps and a latency of 3 ms using frequencies in the 3.7GHz band. Huawei provided the 5G end-to-end network system and the 640km of fibre-optic infrastructure was operated by the Innsbruck municipal utilities.

https://www.telekom.com/en/media/media-information/archive/innsbruck-is-austria-s-first-5g-city-514808

Belgium

april 2018
Proximus

Huawei

3.5 GHz

3

Proximus and its 5G partner Huawei achieved a successful 5G outdoor trial with 2.94 Gbps throughput and 1.81 millisecond end-to-end latency

https://www.proximus.com/fr/news/proximus-and-huawei-team-first-successful-5g-outdoor-trial-belgium-speeds-294-gbps-reached-end

Denmark

may 2018
TDC

Huawei

3.4 - 3.8 GHz

3

TDC, in partnership with Huawei,

 

tested 5G technology using 100MHz in the 3.5GHz band awarded by the Danish Energy Agency (or Energistyrelsen). The operator achieved transmission speeds of 1.9Gbps in the trial. TDC now aims to deploy its first 5G antennas during 2019.

https://tdcgroup.com/da/news-and-press/nyheder-og-pressemeddelelser/2018/5/tdc-efter-ny-test-vi-gaar-forrest-med-udviklingen-af-5g2494364

France

july 2018
Bouygues Telecom

3.4 - 3.8 GHz

3

Arcep has issued a temporary licence (Decision No. 2018-178) to Bouygues Telecom, for 5G pilots in the cities of Bordeaux, Lyon and Villeurbanne. The authorisation grants Bouygues rights to stage 5G pilots over the period May-September 2018
Bouygues Telecom is deploying 5G over the 3.5 GHz band using two relay antennas for the moment. They were able to send 10 streams in 4K over nearly 4 kilometers in good conditions.


https://www.telegeography.com/products/commsupdate/articles/2018/07/04/bouygues-orange-announce-new-5g-trials/

Romania

june 2018
Orange

Cisco
Samsung

26 GHz

2

Orange announced 5G tests in Romania for Fixed Wireless Access (FWA) under real conditions by the end of 2018 with its partners Samsung and Cisco.

https://www.thefastmode.com/technology-solutions/12835-orange-to-conduct-5g-trials-in-france-and-romania-in-2018
https://www.lightreading.com/mobile/5g/orange-cisco-samsung-test-5g-fwa-in-romania/d/d-id/744355

Spain

july 2018
Telefónica

Ericsson
Nokia

28 GHz

3

Telefonica announced its 5G technological cities project: The operator has partnered with the manufacturers Nokia and Ericsson for the initial deployment of 5G capabilities in the cities of Segovia and Talavera de la Reina. Speeds of 12 Gbps to 17 Gbps were reached at street level.
In order to carry out this 5G test, the Spanish government granted temporary permission to use 800 MHz of spectrum in the 28 GHz band.

https://www.rcrwireless.com/20180718/5g/spain-kicks-off-process-award-5g-spectrum-tag23

Germany

may 2018
Deutsche Telekom

Huawei

3.6 - 3.8 GHz

2

The first six commercial antennas are installed for test operations in Berlin's Mitte and Schoneberg districts, an area of 5km wide described as a "5G cluster" in Berlin.
The antennas are using frequencies in the 3.7GHz spectrum band under a testing licence, and the operator's pre-commercial set up is enabling "interaction" between 5G equipment and the company's 4G spectrum.
Deutsche Telekom plans to install another 70 cells by this summer, across more than 20 sites.

https://www.mobileworldlive.com/featured-content/home-banner/deutsche-telekom-makes-progress-on-5g/

Romania

may 2018
RCS&RDS (Digi)

Ericsson

Media and Entertainment

3

Digi Mobil and Ericsson presented the relevant 5G technology at the "5G INTELLIGENT STEP TO 5G" event on 3 May 2018, predicting the evolution from 4G to 5G of the network used by Digi Mobil.
They tested the 5G speed of up to 10 Gbps through a prototype platform as well as the latency of the signal reduced by 10% compared to 4G.

https://www.digi24.ro/stiri/sci-tech/lumea-digitala/digi-mobil-si-ericsson-prezinta-capabilitati-ale-tehnologiei-5g-previzionand-aplicatii-care-vor-asigura-puntea-dintre-4g-si-5g-922675
business-review.eu/news/digi-and-ericsson-tested-live-5g-connections-showing-the-evolution-from-4g-167661

Finland

april 2018
Telia

Nokia

28 GHz

Industry 4.0

Intel
3

Nokia and Telia conduct Industry 4.0 trial in Finland leveraging low-latency and high-bandwidth of 5G technology

https://www.teliacompany.com/en/news/news-articles/2018/telia-nokia-and-intel-bring-5g-to-the-factory-floor/
https://www.nokia.com/en_int/news/releases/2018/04/12/nokia-and-telia-conduct-industry-40-trial-in-finland-leveraging-low-latency-and-high-bandwidth-of-5g-technology

Spain

april 2018
Telefónica

Ericsson

3.4 - 3.8 GHz

Automotive and Road Transport

2

Telefónica presented

 

in Talavera de la Reina the first 5G use case with an EZ10 autonomous driving electric minibus. The demonstration used the 3.5 GHz band in mobility via an autonomous electric vehicle from the EasyMile company, in which an Ericsson 5G terminal and the CarMedia Solutions platform have been installed, in order to enjoy multimedia content, digital services, and virtual office applications during the journey. 5G coverage is provided through a Telefónica mobile unit where a 5G Ericsson antenna has been deployed.

https://www.telefonica.com/en/web/press-office/-/telefonica-presents-the-first-5g-use-case-with-autonomous-driving-and-content-consumption

Italy

march 2018
TIM

Ericsson

3

TIM and Ericsson have signed a Memorandum of Understanding with the Municipality of Genoa, the Liguria Region and Liguria Digital to launch a 5G Digital Lab to work on 5G technology and IoT use cases for local citizens, businesses and public offices.

https://www.5gcity.eu/2018/03/29/tim-ericsson-sign-mou-to-carry-out-5g-tests-in-genoa/

Italy

may 2018
TIM

Huawei

3.6 - 3.8 GHz

Automotive and Road Transport
eHealth
Industry 4.0
Media and Entertainment
Public Safety
Smart Cities
Transport
Virtual Reality

Fastweb
3

TIM, Huawei and Fastweb demonstrated virtual reality for tourists as well as an augmented reality tool for ship engines maintenance in Bari and Matera, which are the trialed "5G cities" with budget of 60 million euros over four years. The 5G network was implemented through the use of 3.7-3.8 GHz frequency bands made available by the Ministry of Economic Development.
This 5G initiative covers various applications including smart city, public safety, environmental monitoring, industry 4.0, 5G healthcare, media, education, virtual reality, automotive, and mobility.

https://www.rcrwireless.com/20180530/5g/italy-consoltium-unveils-first-5g-based-field-applications-ag23

Italy

june 2018
TIM

Nokia

28 GHz
3.4 - 3.8 GHz

3

In May 2018, TIM demonstrated 5G technology in the 26GHz band and confirmed the contract with Nokia for a 5G network rollout in the 3.5GHz and 26GHz bands.

https://blog.telegeography.com/a-guide-to-5g-spectrum-auctions-in-western-europe-italy-greece-spain-portugal-san-marino

Greece

june 2018
Cosmote

Nokia

3.4 - 3.8 GHz

EETT
3

Using the spectrum band 3.5GHz, Cosmote will gradually implement 5G starting from urban areas before the expansion throughout the country by 2020. The 3.5 GHz was awarded for Q3 2019, and further test permits are awaited in 2018-2019.


https://blog.telegeography.com/a-guide-to-5g-spectrum-auctions-in-western-europe-italy-greece-spain-portugal-san-marino

Italy

march 2018
TIM

Huawei

3.4 - 3.8 GHz

Fastweb
3

TIM, in partnership with Fastweb and Huawei, have signed a Memorandum of Understanding with the city councils of Bari and Matera as part of 5G trials to be conducted over the next 4 years. Tests are about to be carried out using frequencies in the 3.7-3.8 GHz band made available by the country's Ministry of Economic Development (MISE). The BariMatera5G project intends to achieve 75 percent coverage of the testing area in the two cities by 2018, rising to full coverage by 2019.

 



http://www.fastweb.it/internet/5g-matera-fastweb/

Poland

march 2018
Orange

3.5 GHz

3

Orange Poland plans 5G network tests in 2019, mainly focusing 3.5 GHz frequency bands. The operator planned the launch of its next-generation technology by 2020-2021.

http://biznes.pap.pl/en/news/pap/info/2504310,orange-polska-plans-to-implement-5g-network-in-2020-2021

Russia

march 2018
MegaFon

Qualcomm

28 GHz

3

Megafon, in cooperation with Qualcomm, has tested 5G services on the 24.25-27.5 GHz band. The operator used a segment of its LTE network in downtown Moscow.

 



https://www.telecompaper.com/news/megafon-qualcomm-test-5g-in-moscow–1237468

Sweden

march 2018
Telia

Intel

Media and Entertainment

Ericsson
3

Telia, Intel and Ericsson demonstrated an augmented reality (AR) case over a live 5G network during a Telia event in Stockholm. The partners demonstrated the ways in which 5G capabilities such as low latency and high data rates, combined with AR can enable new real-time applications and services.

 


The live demonstration on Telia's network used Ericsson's 5G trial system and base technology along with Intel's 5G mobile trial platform.

 



https://www.ericsson.com/en/news/2018/3/5g-augmented-reality

Switzerland

march 2018
Swisscom

Ypsomed

Industry 4.0

3

Swisscom and medical technology manufacturer Ypsomed have been developing 5G joint applications for digitising industry. In a pilot project with Swisscom, Ypsomed has created a 5G test network and digitised the entire process chain, from the delivery of raw materials and product manufacture and through to provisioning and supply.

https://www.swisscom.ch/en/about/medien/press-releases/2018/03/20180305-mm-ypsomed.html

Finland

february 2018
Elisa

Huawei

3.5 GHz

Media and Entertainment

2

Elisa launched tests of VR, AR and game applications on a 5G network it built with Huawei in Pasila, Helsinki. The 5G network operates on the 3.5 GHz band. Furthermore, the operator tested 5G network in a moving car, simultaneously with two 5G terminal devices, in a trial with Huawei in Helsinki's Pasila district.

 


Elisa also plans to begin upgrading its existing infrastructure in Turku and its surroundings in March 2018 with a view to making it ready for 5G services. It anticipates that the upgrade project will be finished by the end of May.

https://www.mobileeurope.co.uk/press-wire/elisa-holds-latest-5g-tests-pleas-for-spectrum
https://www.telegeography.com/products/commsupdate/articles/2018/02/16/elisa-starting-5g-ready-upgrades-in-turku/
https://www.telecompaper.com/news/elisa-huawei-test-5g-in-moving-car-in-helsinki–1232374

Ireland

february 2018
Vodafone

Ericsson

3.4 - 3.8 GHz
3.6 - 3.8 GHz

3

Vodafone conducted a live demonstration of pre-standard 5G technology in Ireland. At the Douglas Hyde Gallery at Trinity College, Vodafone Ireland and Ericsson achieved 15 Gbps with a latency of less than 5 ms in the demonstration using the operator's 3.6GHz spectrum acquired last year.

 



https://n.vodafone.ie/aboutus/press/vodafone-hosts-irelands-first-live-5g-test.html

Italy

february 2018
Fastweb

Ericsson

3.6 - 3.8 GHz

Transport

City Council of Rome
3

Fastweb in cooperation with Ericsson and the City of Rome started a 5G trial, demonstrated by switching on the first 5G experimental antenna on 22 February 2018. The agreed use case that are being developed concern public transport, public safety and tourism (VR in archeogical sites and museums). For the trial Fastweb is using 42MHz in the 3.6-3.8 GHz spectrum bands, plus LTE (Fastweb is an MVNO hosted on TIM's mobile network) and WiFi (Fastweb has the largest WiFi newtork in terms of hotspots and shared users' badwitdth in the country.

 



https://www.comune.roma.it/web/it/notizia.page?contentId=NWS108407
http://www.fastweb.it/corporate/media/comunicati-stampa/roma5g-roma-capitale-fastweb-ed-ericsson-accendono-a-roma-il-primo-segnale-della-rete-mobile-di-quinta-generazione/?lng=EN

 


http://www.roma5g.eu

Spain

february 2018
Vodafone

Huawei

3.7 GHz

2

Vodafone Spain partnered with Huawei to perform 'the first 5G call in the world'. The call between Castelldefels in Barcelona and Madrid adhered to the standard commercial specifications approved by industry standards body 3GPP in December 2017, and utilised spectrum in the 3.7GHz band. The test also demonstrated a 'dual 4G-to-5G connection', which the companies say will be an important facet of 5G network technology, assisting with the control and management of data traffic.

http://www.vodafone.com/content/index/what/technology-blog/5g-nsa-standard.html

Bulgaria

february 2018
Mtel

Media and Entertainment
Virtual Reality

3

Mtel trialed 5G technology during a Virtual Reality (VR) demonstration and balancing industrial robots.
The VR experiment introduced streaming content with 4K resolution without any delay. Speeds of 2.2 Gbps were measured.
The experiment with robots that balance the ball on a flat surface demonstrated a low lag of about 1 millisecond in the 5G network.

https://offnews.bg/tehnologii/mtel-demonstrira-5g-tehnologia-skorostta-e-15-pati-po-dobra-ot-lte-674956.html

France

may 2018
SFR

Nokia

3.4 - 3.8 GHz

2

Nokia and SFR have successfully completed 'the first 5G call in France', using the 3GPP-compliant 5G New Radio (NR) system on the 3.5GHz frequency band.
The test took place at the Nokia 5G Test Network and Competence Center in Paris-Saclay, France. The 5G call used Nokia 5G NR technology, incorporating the Nokia 5G-ready AirScale radio platform and Cloud RAN technology together with 3GPP-compliant end-user test devices.

 



https://www.rcrwireless.com/20180508/5g/nokia-completes-5g-call-3-5ghz-band-france-tag23

France

february 2018
Bouygues Telecom

Huawei

3.5 GHz

1

Huawei and Bouygues Telecom announced a joint innovation program to experiment 5G in France. Bordeaux will host their first 5G network trial, from single site to multi-site coverage.

http://www.huawei.com/en/press-events/news/2018/2/Huawei-Bouygues-Telecom-5G-Agreement

France

february 2018
Orange

Ericsson

3

Orange will conduct a technical 5G test in France in the cities of Lille and Douai, using network equipment supplied by Ericsson. The trial will run from mid-2018 until mid-2019, after the necessary authorisations from regulator Arcep.

http://www.telecomtv.com/articles/5g/orange-announces-5g-trials-in-france-and-romania-16375/

Germany

february 2018
Deutsche Telekom

University of Dresden

Energy

3

Telekom announced it is constructing a 5G testbed for smart energy grid management in Dresden in a cooperation with the city administration and the Dresden University of Technology. The partners' aim is to support the decentralized distribution of energy with a real-time, secure 5G communications system, said Telekom. The first tests of smart energy systems will begin with LTE this year before the project is expanded to include 5G.

https://www.telecompaper.com/news/deutsche-telekom-showcases-5g-ean-smart-home-applications-at-mwc–1233729

Italy

february 2018
TIM

Ericsson

3

TIM partnered with Ericsson and industrial automation specialist Comauto demonstrate a newly-developed cloud robotics platform at Mobile World Congress, part of their '5G for Italy' initiative launched last year.

 



http://www.telecomitalia.com/content/tiportal/it/notiziariotecnico/edizioni-2017/n-2-2017/capitolo-2/approfondimenti-3.html


Romania

february 2018
Orange

Samsung

28 GHz

Cisco
1

In Romania, Orange will test the 5G technology as an alternative to fiber optics broadband networks. To assess the maturity of this technology and the perception of affected customers, Orange will conduct a test under real conditions in Romania during the second half of 2018 with Samsung and Cisco.

https://www.romania-insider.com/orange-5g-romania/

Russia

february 2018
Rostelecom

Tattelecom

Megafon
3

5G trials in the Republic of Tatarstan will start in March 2018, involving local telco Tattelecom alongside Russian national fixed operator Rostelecom and mobile main player MegaFon. Projects will be launched in Kazan (MegaFon) and in Innopolis (Rostelecom and Tattelecom), according to the Republic's communications ministry.

https://www.telecompaper.com/news/rostelecom-megafon-to-start-testing-5g-in-tatarstan-in-march–1230189

Spain

february 2018
Orange

3.5 GHz

1

Orange Spain announced at Mobile World Congress in Barcelona that it will be conducting trials of 5G technology in four unnamed Spanish cities in 2019. The operator said it will be using the 40MHz of spectrum in the 3.5GHz band it acquired in a 2016 auction for the 5G pilots.

 



https://www.telecompaper.com/news/orange-spain-to-trial-5g-in-4-cities-next-year-hits-745mbps-in-45g-demo–1234089

Spain

february 2018
Telefónica

Huawei

Media and Entertainment

3

Telefonica and Huawei jointly demonstrated the industry's first VR service using 5G end-to-end (E2E) network slicing technology underpinned by Telefonica's UNICA program.

http://telecoms.com/intelligence/huawei-5g-transport-helps-telefonica-demonstrate-the-industrys-first-5g-slicing-based-interactive-vr-service/

Spain

february 2018
Telefónica

Huawei

Automotive and Road Transport

3

Telefónica and Huawei complete world's first proof-of-concept test of 5G-V2X radio for URLLC assisted driving

https://www.telefonica.com/web/press-office/-/telefonica-and-huawei-complete-world-s-first-proof-of-concept-test-of-5g-v2x-radio-for-urllc-assisted-driving

Turkey

february 2018
Turkcell

Samsung

3

Turkcell and Samsung signed a letter of goodwill to collaborate on 5G trials in 2018 in Turkey. Turkcell said the partnership would accelerate commercialisation of 5G technology and support Turkey's digital transformation. Companies will also focus on the Internet of Things, applications of smart devices, home security, energy consumption and automatisation.

https://aa.com.tr/en/economy/turkcell-samsung-to-collaborate-on-5g-technology/1061966

Switzerland

january 2018
Salt

Nokia

3.4 - 3.8 GHz

Media and Entertainment

Broadcast and Streaming Functions
2

Salt and Nokia demonstrated 5G technology in Salt's headquarters in Renens, with tests performed in the 3.5 GHz frequency band, thanks to a temporary license obtained from the OFCOM. By means of a 5G antenna with 8x8MiMo, the highest data download speed measured was 4.5 Gbps achieved in the broadband test. Both players showcased VR applications, as well as 360° live videos. The operator expects to launch 5G services by 2020.

 



https://www.salt.ch/media/press/files/2018/1/25/fa5ff6bc-9c08-4713-b69c-a19d2e43c21c/309/Salt_5G%20-%20Salt%20and%20Nokia%20showcase%20mobile%20network%20of%20the%20future.pdf

Germany

january 2018
Deutsche Telekom

Huawei

Intel
3

Deutsche Telekom, Intel and Huawei have collaborated to achieve 5G interoperability and development testing based on the 3GPP R15 Standard using Huawei's 5G commercial base station and Intel's third generation 5G NR Mobile Trial Platform (MTP), while it also incorporates Massive MIMO multi-antenna and beamforming technology enabled by the standard framework.

https://www.telekom.com/en/media/media-information/archive/dt-and-partners-achieve-5g-nr-interoperability-515364

Spain

january 2018
Telefónica

Nokia

Ericsson
3

Telefónica presented the 5G Technological Cities project, with the initial deployment of 5G capabilities in the cities of Segovia and Talavera de la Reina, in partnership with Nokia and Ericsson.
Telefónica will convert the two cities into 5G living laboratories over the next three years (2018-2020), with pioneering capabilities including the initial 5G capacity, the deployment of the new 5G network and the development of use cases allowing their citizens and companies to benefit from the advantages of the above technology.

https://www.telefonica.com/en/web/press-office/-/telefonica-leads-the-way-towards-5g-with-deployments-in-two-spanish-cities

Italy

december 2017
TIM

Ericsson

28 GHz

Media and Entertainment

Broadcast and Streaming Functions
3

TIM reached DL speeds of 23.4 Gbps at the Polytechnic University of Turin, using spectrum in the 28 GHz band. Partners tested a Virtual Reality tour of a piazza in Turin.

https://www.ericsson.com/en/news/2017/12/tim-achieves-record-speed-in-5g-demo-with-ericsson

Romania

december 2017
Orange

Huawei

3.4 - 3.8 GHz

3

Orange Romania and Huawei have conducted a live technology trial of a "Massive MIMO" solution in the capital city of Bucharest. The trial uses TD LTE Technology in the 3.5GHz band. Moreover, the trial showed a boost in customer quality of experience (x5 in upload and x2.5 in download) compared to existing 4G technologies at 3.5GHz.

https://www.orange.ro/newsroom/comunicat/inovatii-1/orange-romania-huawei-testeaza-5g-in-bucuresti-1026

Spain

december 2017
Telefónica

Ericsson

Media and Entertainment

FITUR, IFEMA
Cloud and Edge computing functions
3

FITUR 2018 to anticipate future applications of 5G technology for the tourism industry.

https://www.networks.imdea.org/whats-new/news/2017/fitur-2018-anticipate-future-applications-5g-technology-tourism-industry

Switzerland

december 2017
Huawei

3.4 - 3.8 GHz

Media and Entertainment

Broadcast and Streaming Functions
2

Sunrise and Huawei demonstrated use cases on a 5G end-to-end network. Download throughputs of 3.28 Gbps were achieved, using spectrum in the 3.5Ghz band. 5G was tested with Virtual reality, 360° live video and 4K video streams.

http://www.huawei.com/en/news/2017/12/Sunrise-5G-Connection-Switzerland

United Kingdom

june 2018
Vodafone

3

Vodafone announced the testing of 5G mobile networks in seven British cities by the end of 2018. The deployments will start in 2019 in dense urban areas. The groundwork for 5G services already deployed at 40 locations (around Birmingham, Bristol, Cardiff, Glasgow, Liverpool, London and Manchester) is complementary to 4G networks .

https://www.reuters.com/article/us-britain-5g-vodafone-group/vodafone-sets-5g-trials-in-seven-of-britains-10-big-cities-idUSKBN1JG1B8

United Kingdom

june 2018
EE

3.5 GHz

1

The mobile operator EE has announced its plan to launch a live trial of 5G services in 2018 in 10 sites around East London's tech hub. This will enable the use of prototype 5G devices five small businesses and five homes.

https://www.theinquirer.net/inquirer/news/3033601/ee-will-launch-the-uks-first-live-5g-trials-later-this-year

United Kingdom

december 2017
Vodafone

Ericsson

3.4 - 3.8 GHz

King's College London
3

Vodafone UK and Ericsson, in partnership with academics at King's College London, have successfully tested standalone pre-standard 5G using a prototype device in a central London 3.5 GHz spectrumfield trial.
Based on a proprietary 5G standard with plans to move onto the new global standard when fully ratified, Ericsson's 5G test bed system operates in the 3.5GHz spectrum band. The trial also showcased advanced 5G technologies including Massive MIMO, beamforming, multi-user MIMO and beam tracking.

https://www.ericsson.com/en/news/2017/12/first-live-uk-pre-standard-5g-test

Latvia

december 2017
Tele2

Nokia

700 MHz

3

Tele2 Latvia has achieved downlink speeds of up to 575Mbps via Nokia '5G-ready' networks in the Ziepniekkalns district of Riga and the city of Talsi. The operator announced that the same equipment will also be installed on base stations in Valmiera.

https://www.mobileeurope.co.uk/press-wire/tele2-latvia-gets-5g-ready-with-nokia-base-stations

Croatia

november 2017
VIPnet

3.4 - 3.8 GHz

City of Jastrebarsko
3

VIPnet tested 5G technology in Jastrebarsko using temporary licences in the 3.5 GHz frequency band  granted by Croatian regulator HAKOM. Throughputs of up to 700 Mbps were achieved in the tests.

http://novo.hr/vipnet-poceo-testiranje-5g-frekvencije/

Italy

november 2017
Vodafone

Huawei

3.4 - 3.8 GHz

2

Up to 2.7 Gbps achieved by Vodafone and Huawei in the city of Milan, using spectrum in the 3700-3800 MHz and Massive MIMO technology.
Both partners also completed a test in Milan, on a full end-to-end (E2E) network, of a technique to enhance the range of high frequency bands (3.7 GHz bands made available by Italy's Ministry of Economic Development), possibly used for 5G networks. Instead of using a single frequency band to communicate between a smartphone and the network, companies used different frequency bands for DL and UL transmissions. Vodafone demonstrated up to a 10 decibel coverage range improvement in the uplink when also utilising the low band, meaning that customers would get a stronger signal even in areas where 5G coverage is limited.

http://www.huawei.com/en/news/2017/11/Vodafone-First-5G-Data-Connection-Italy
http://www.huawei.com/en/news/2017/11/Vodafone-live-trial-pre-standard-5G-Milan

Russia

november 2017
Rostelecom

Ericsson

3.4 - 3.8 GHz

3

Rostelecom and Nokia are planning to carry out a 5G trial at the State Hermitage Museum, in Saint Petersburg. Tests will be based on Ericsson's 5G Radio System, and will use a mix of VR, haptic technology, and robotics. The trial network will be operated in the 3.5GHz frequency band and support LTE/LTE-Advanced devices. These trials will be carried out by first half of 2018.

https://www.mobileeurope.co.uk/press-wire/megafon-rostelecom-moot-shared-5g-infrastructure

Russia

november 2017
Rostelecom

3.4 - 3.8 GHz

Megafon
3

Megafon and Rostelecom announced the signature of a cooperation agreement to jointly develop a 5G network. As part of the cooperation, companies will focus on optimal scenarios for rolling out 5G networks. Both players are also considering the possibility of a joint venture for the construction of 5G networks in Russia. Megafon and Rostelecom are planning to roll out 5G networks in the 3.4-3.6 GHz and 26 GHz frequency bands.

https://www.mobileeurope.co.uk/press-wire/megafon-rostelecom-moot-shared-5g-infrastructure

Spain

november 2017
Telefónica

Automotive and Road Transport
Industry 4.0

ASTI, 5TONIC
Application Specific Functions
3

Engineering firm ASTI and 5G innovation lab 5TONIC are testing 5G applicability in ASTI Mobile Robotics' AGVs (automated guided vehicles).

https://www.5tonic.org/news/5g-technology-applied-asti-mobile-robotics-agvs

United Kingdom

november 2017
EE

Huawei

3.4 - 3.8 GHz

3

EE and Huawei demonstrated data speeds of up to 2.8 Gbps using a 5G end-to-end test network in its UK mobile lab. Tests used 100 MHz of 3.5 GHz spectrum and linked a virtualised 5G network with a 64*64 Massive MIMO antenna.

http://newsroom.ee.co.uk/ee-showcases-end-to-end-5g-network-architecture-with-28gbps-speeds/

Norway

november 2017
Telenor

Transport

Kongsberg local government, Applied Autonomy (automated transport company) and Kongsberg Innovation
Application Specific Functions
3

Telenor chose the city of Kongsberg for its first 5G testbed in collaboration with Kongsberg local Government, automated transport company Applied Autonomy and the Kongsberg Innovation incubator. All plan to trial the likes of autonomous buses and drones, emergency communications and eHealth services.

 



http://e24.no/digital/telenor/kongsberg-blir-norges-foerste-5g-kommune/24183440

Hungary

october 2017
Magyar Telekom

Ericsson

15 GHz

3

Magyar Telekom and Ericsson jointly demonstrated downlink speeds of 22 Gbps using 5G New Radio. Players used 800 MHz in the 15 GHz frequency band. The NR pre-standard is capable of beamforming which enables point-to-point data transmission at very high speeds.

https://www.ericsson.com/en/news/2017/10/ericsson-and-magyar-telekom-demostrate-first-5g-link-in-hungary

France

october 2017
3.4 - 3.8 GHz

3

Free received temporary licences in the 3.6-3.7 GHz to carry out 5G technical trials in Paris, at Free's headquarters. No additional information on the results available.

https://www.telecompaper.com/news/free-mobile-receives-green-light-for-5g-technical-trial-in-paris–1216558
http://www.phonandroid.com/free-mobile-autorise-tester-reseau-5g-arcep.html

Germany

october 2017
Deutsche Telekom

Huawei

3.4 - 3.8 GHz

Media and Entertainment

Broadcast and Streaming Functions
2

Deutsche Telekom and Huawei announced the implementation of 5G antennas in Berlin. Using pre-standard 5G NR, companies achieved a 'live 5G connection in a real world setting', delivering DL throughputs of up to 2 Gbps to a single user device, as well as a 3 ms latency.,

 

DT is using spectrum in the 3.7GHz frequency range coupled with Huawei equipment for its implementation in Berlin.

https://www.telekom.com/en/media/media-information/archive/europes-first-5g-antennas-are-transmitting-in-berlin-505686

Greece

october 2017
Cosmote

Nokia

3.4 - 3.8 GHz

Media and Entertainment

3

5G technology was presented

 

by Cosmote in a live demonstration along with Nokia, achieving speeds of up to 4.5Gbps. At the InfoCom World conference, visitors had the opportunity to watch 360° video streaming through a Virtual Reality headset. Both players used the 3.5GHz range during the demonstration.

https://www.cosmote.gr/fixed/en/corporate/details/-/asset_publisher/gLfNzjIgW7PO/content/%CF%84%CE%BF-%CF%80%CF%81%CF%89%CF%84%CE%BF-live-demo-%CE%B4%CE%B9%CE%BA%CF%84%CF%85%CE%BF%CF%85-5g-%CF%83%CF%84%CE%B7%CE%BD-%CE%B5%CE%BB%CE%BB%CE%B1%CE%B4%CE%B1-%CE%B1%CF%80%CE%BF-%CF%84%CE%B7%CE%BD-cosmote

Italy

october 2017
Wind Tre

Open Fiber

3.4 - 3.8 GHz

Smart Cities

Enel, ZTE, Estra, local universities and research centres
3

In partnership with Open Fiber, Wind Tre will be launching 5G pre-commercial trials in the city of Prato, Italy. Trials will be performed using the 3.6-3.8 GHz bands, focusing mobility, safety, healthcare and smart energy applications.

http://iltirreno.gelocal.it/prato/cronaca/2017/10/17/news/wind-tre-e-open-fiber-svilupperanno-la-rete-5g-a-prato-1.16002510

Latvia

october 2017
Tele2

Nokia

3

Tele2 has deployed 5G-ready BTS, using Nokia AirScale Radio Access equipment in cities of Ziepniekkalns and Talsi. Speeds of up to 1 Gbps are expected in the short term, while throughputs of more than 28 Gbps are planned when launching 5G services.

https://www.telecompaper.com/news/tele2-latvia-builds-5g-ready-base-stations–1216101

Portugal

october 2017
Vodafone

Ericsson

3

Vodafone Portugal achieved DL speeds of up to 20Gbps in a '5G' trial in partnership with Ericsson. The demonstration took place at Vodafone's HQ in Lisbon, and utilised multi-user MIMO as well as beamforming technologies.

https://press.vodafone.pt/en/2017/10/04/vodafone-performs-first-5g-tests-in-portugal-and-attains-speeds-of-20gbps/

Russia

october 2017
Rostelecom

Nokia

3

Rostelecom and Nokia are planning to deploy a pilot 5G network in Moscow. Both players also agreed to work together on a list of scenarios for 5G.
At the Open Innovations Forum that takes place in Moscow on October 16-18, 2017 at the Skolkovo technopark, PAO Rostelecom, Nokia, and the Skolkovo Foundation signed an agreement to set up a 5G pilot zone in the territory of the Skolkovo innovations center.

https://www.rostelecom.ru/en/ir/news/d441808/

Spain

october 2017
Telefónica

ZTE

3

Telefonica and ZTE completed the 'first phase' of a 5G transport trial in Madrid, by using ZTE's new '5G Flexhaul' transport solution. They will now be focusing on E2E 5G solutions.

https://telecomdrive.com/road-5g-zte-telefonica-complete-5g-transport-test/

Spain

september 2017
Orange

Ericsson

28 GHz

Broadcast and Streaming Functions, IoT Enabler Functions
3

Orange and Ericsson achieved tests of 5G technology in central Madrid, Spain. Trials reached speeds of up to 17Gbps and latency to under 1 millisecond. Companies used a 5G base station as well as Multi-User MIMO (MU-MIMO) and beamforming technology. Tests have been performed using 800 MHz in the 28 GHz band, which also saw a moving vehicle access a 4K film in real time while driving around Ericsson's offices.

https://www.mobileeurope.co.uk/press-wire/orange-spain-hits-15gbps-in-5g-demonstration

Estonia

september 2017
Telia

Ericsson
Intel

Smart Cities
Transport

Tallinn port / city
3

First public 5G network use cases high speed 5G network to a commercial passenger cruise ship in port as well as a construction excavator remotely controlled with a live 5G network

https://www.ericsson.com/en/press-releases/2017/9/telia-ericsson-and-intel-first-to-make-5g-real-in-europe
https://www.mobileeurope.co.uk/press-wire/telia-taps-ericsson-intel-for-tallinn-5g-trials

Finland

september 2017
DNA

Omnitele

3

DNA has signed an extension contract with Omnitele on network design, optimisation and analytics services, covering all mobile network technologies including 5G.

http://www.omnitele.com/2017/omnitele-dna-continue-5g-era/

Italy

september 2017
TIM

Huawei

Fastweb
3

TIM, Fastweb and Huawei to start 5G testing in Bari and Matera / TIM announces 5G with Huawei in Bari (port) and Martera (2019 european capittal of culture), to develop first use cases mid 2018 (75% of the city coverage expected for the same year; full coverage end of 2019)

http://www.telecomitalia.com/tit/en/archivio/media/note-stampa/market/2017/NS-5G-Bari-e-Matera.html

Norway

september 2017
Ice

Nokia

3

Ice ran a demonstration on 21 September of services with a top internet speed of 3.1 Gbps, according to an excerpt from the portal InsideTelecom. Meanwhile, a headline on TelecomRevy.no said that Ice and Nokia had jointly presented a test of 4.9 Gbps services, paving the way for 5G.

https://www.telecompaper.com/news/ice-runs-demonstration-of-progress-towards-5g–1213129

Spain

september 2017
Telefónica

InterDigital

70 - 80 GHz

3

Trial on novel transport solution for integrated fron-haul/back-haul networks.


InterDigital, Inc. announced the successful trial and evaluation of the company's millimeter wave (mmW) EdgeLin 60GHz solution and Fast-Forward 70GHz solution that meets new 5G transport requirements as defined by the various 5G standardization groups in 3GPP, ETSI, IEEE, and eCPRI. The solution proved the feasibility of 5G fronthaul upper-layer and lower-layer transport over wireless.




The successful trial was a key part of a larger two-month trial integrating technology innovations from six partners in the H2020 5G-Crosshaul consortium, InterDigital, Ericsson, Nokia, UC3M, NEC and CND. The trial started in November 2017 and was conducted in Madrid (Spain) at 5TONIC, an open research and innovation lab focusing on 5G technologies. The 5G-Crosshaul consortium, over the three years 2015-2017, has developed a novel 5G integrated fronthaul/backhaul transport solution, named 5G-Crosshaul, that enables flexible transport reconfiguration via Software Defined Networking (SDN) in a multi-tenant, multi-domain environment, while meeting 5G's stringent service requirements.



https://globenewswire.com/news-release/2018/01/31/1329030/0/en/InterDigital-Announces-Successful-Demonstration-of-5G-Ready-mmW-Wireless-Crosshaul-Transport.html

United Kingdom

july 2017
Arqiva

Samsung

28 GHz

Targeted Virtual Networks
2

PoC of 5G NR for Fixed Wireless Access as a potential competitive proposition to FTTH and G.fast. Link is connected over a distance of 240m (maximum distance could be >1km), delivering speeds of 1.1 Gbps using 300MHZ bandwidth at 28GHz (27.715 – 28.015GHz). Base Station Antenna has integrated BBU, all other network components are virtualised.  Samsung end-to-end solution including mmWave RFIC with 16 antenna per RFIC (CPE has total of 64 antenna, base station has 1024).

https://news.samsung.com/global/arqiva-and-samsung-kick-off-uks-first-5g-fixed-wireless-access-trial

San Marino

july 2017
TIM

3

TIM and the government of the Republic of San Marino sign a Memorandum of Understanding to create a 5G mobile network in the country by the end of 2018.
TIM will start to update the mobile sites of its network in the Republic of San Marino with 4.5G, introducing some of the features of 5G, such as evolved mast towers (MIMO4x4), Carrier Aggregation, superior modulation, and Cloud architecture, as well as introducing "small cells", small, low power masts with low environmental impact in the principal streets and piazzas of the historical centre of the Republic of San Marino, a Unesco world heritage site. The technology plan includes doubling the number of existing mobile sites and installing several dozen "small cells", linked by optic fibre and distributed throughout the whole of the territory of San Marino.

Switzerland

july 2017
Swisscom

Ericsson

3

Swisscom has carried out 5G trials in Zurich in partnership with Ericsson. The test used a single base station and two terminal devices, and achieved peak download speeds of 10Gbps. Swisscom plans 5G services by 2020, at which date it will switch off its 2G/2.5G systems.

https://www.telegeography.com/products/commsupdate/articles/2017/07/07/swisscom-tests-10gbps-5g-prototype/

Russia

june 2017
MegaFon

Huawei

70 - 80 GHz

Broadcast and Streaming Functions
3

MegaFon achieved speeds of 35Gbps in network technology trials with Huawei, held in St Petersburg. The trial utilised 2GHz of bandwidth in the 70GHz 'E-band' and forms part of MegaFon's 5G development plans. MegaFon plans to deploy '5G' services covering limited zones in 2018, at the football World Cup in Russia.

https://www.totaltele.com/497226/MegaFon-Huawei-in-35-Gbps-5G-demo

Turkey

june 2017
Turkcell

Huawei

70 - 80 GHz

3

Turkcell has hit speeds of 70GBps by using 71.5-73.5GHz spectrum in its 5G trial with Huawei.

https://www.mobileeurope.co.uk/press-wire/turkcell-explores-mmwave-in-latest-huawei-trial

Belgium

june 2017
Telenet

ZTE

3

Telenet (Base) and ZTE signed a Strategic Partnership Agreement on 5G and Internet of Things. Both firms teamed up and achieved 'record' pre-5G speeds in an outfield test carried out in December 2016.

 



https://www.telegeography.com/products/commsupdate/articles/2017/06/06/telenet-and-zte-ink-strategic-partnership-deal-related-to-5g-and-iot/index.html

Hungary

june 2017
Magyar Telekom

Automotive and Road Transport

3

Magyar Telekom announced it has begun building a 5G test network in Zalaegerszeg, with the aim of becoming a regional centre of 5G development. The operator has also started implementing a 5G pilot mobile communication network to be integrated into a 'motor vehicle test area' to be established in Zalaegerszeg, whilst it is cooperating in testing self-driving cars as well as smart transport solutions.

https://www.telegeography.com/products/commsupdate/articles/2017/06/05/magyar-telekom-building-5g-test-network/index.html

Romania

june 2017
Telekom Romania

Ericsson

Smart Cities

Targeted Virtual Networks, Cloud and Edge computing functions
3

Telekom Romania tested 5G technologies in conjunction with Ericsson. Both companies demonstrated beamforming and aggregate speeds of up to 24Gbps, in tests held in Bucharest. During the demonstration, five different use cases exploring the capabilities of 5G technology were showcased: 5G speeds, two cloud robotics and two smart city solutions.
The Romanian government aims to award 5G licences in 2018, ahead of commercial deployments expected in 2020.

http://www.business-review.eu/news/telekom-romania-ericsson-conduct-first-5g-live-demonstration-in-south-eastern-europe-139841

Russia

april 2017
MTS

Ericsson

15 GHz

Media and Entertainment

Broadcast and Streaming Functions, IoT Enabler Functions
2

MTS and Ericsson tested mobile 5G technology on a prototype Russian smartphone, claiming record data transmission speeds of up to 25Gbps. The latest tests were conducted at a Moscow stadium where a base station operating in the 14.5GHz-15.3GHz range transmitted data to a moving smartphone at 25Gbps. MTS and Ericsson tested 5G usage scenarios including online broadcast streaming video in 4K format, virtual reality and remote controlled robotics requiring ultra-low latency and high data rates. The tests used key technologies including Multi-User and Massive MIMO, Beam Tracking and Dynamic TDD.

https://www.ericsson.com/en/press-releases/2017/4/2097857-ericsson-and-mts-test-new-5g-features

Finland

april 2017
Elisa

Nokia

3.4 - 3.8 GHz

Media and Entertainment

2

Finnish operator Elisa and Nokia announced the completion of a European test of pre-standard 5G technology using the 3.5GHz band. In a joint press release, the companies said the trial, held in Rusko, Finland, achieved speeds multiple times higher than commercial 4G networks. At its peak, data speeds reached 1.5Gb/s with a minimum recorded latency of 1.5 milliseconds.

https://www.mobileworldlive.com/featured-content/top-three/nokia-elisa-say-3-5ghz-5g-trial-is-european-first/?utm_campaign=MWL_20170413&utm_medium=email&utm_source=Eloqua
http://www.lightreading.com/mobile/5g/eurobites-elisa-nokia-test-5g-on-35ghz-band/d/d-id/732071

Norway

march 2017
Telenor

Huawei

70 - 80 GHz

Media and Entertainment

Broadcast and Streaming Functions
2

Telenor Group and Huawei demonstrated 5G through the E-band (in the 71-76 GHz/81-86 GHz bands), with a maximum speed of 70Gbps. Furthermore, a Joint Desktop Study that will provide insights and learnings to identify necessary update steps from 4G to 5G technology in Telenor's Network, will be operated through the Telenor and Huawei Joint Innovation Center.

http://www.huawei.com/en/news/2017/3/Huawei-Telenor-First-5G-Demo-Norway

Finland

march 2017
Nokia

Spirent
Targeted Virtual Networks, Cloud and Edge computing functions
3

Nokia and Spirent Communications (telecommunications testing provider) announced 5G Lab as a Service (LaaS), a platform for testing 5G technology. Both said that the 5G LaaS will accelerate Nokia's releases of virtual network functions and physical infrastructure. 5G LaaS supports thousands of devices and 5G and legacy network connections that can be used for new 5G test beds. The company also announced two joint 5G testing facilities in the U.S. and Finland in partnership with Intel earlier in February.

https://www.spirent.com/Newsroom/Press_Releases/Releases/2017/March/03-1-17_Spirent-and-Nokia-partner-to-accelerate-5G-lifecycle-testing

France

march 2017
Bouygues Telecom

Ericsson

2

Bouygues Telecom has carried out 5G trials in cooperation with Ericsson, using a radio station equipped with active 5G antennas connected simultaneously to two mobile prototype terminals. The companies claim to have achieved aggregated rate of 25.2Gbps on the 5G antenna with a latency of the order of three milliseconds.

https://www.bouygues.com/wp-content/uploads/2017/03/bouygues-telecom-5g-demo-with-ericsson.pdf

Italy

january 2016
TIM

Smart Cities

Municipality of Turin
3

TIM plans to turn Turin into Italy's first 5G city. To get the project underway, TIM has signed a memorandum of understanding (MoU) with the municipality of Turin. TIM plans to begin conducting 5G technology trials in 2018. The first will involve 3,000 users, who will be able to access an array of smart city services over the new network.

http://www.telecomitalia.com/tit/en/archivio/media/comunicati-stampa/telecom-italia/mercato/business/2017/10-03-17CS-TIM-Comune-di-Torino-5G.html

Latvia

march 2017
Latvijas Mobilais Telefons

Nokia

Local universities
2

LMT and Nokia installed the first 5G connection station at the University of Latvia, in the city of Tornakalns. Additional 5G stations are to be established across the country this year. LMT cooperates with Nokia and Riga Technical University for the development and testing of 5G technologies.

http://bnn-news.com/lmt-installs-the-first-mobile-5g-station-in-latvia-162482

Norway

march 2017
Telenor

Huawei

3

Telenor has signed an agreement with Huawei at the Mobile World Congress in Barcelona to start 5G testing in 2017. Telenor is planning to bring out 5G on the Norwegian market in 2020.
5G applications could include medical services, automated factories, and robotics, said Zetterberg. He compared 5G capacity to an eight-lane motorway with a speed limit of 1,000 km per hour. The technology will be able to serve devices at between 1 Gbps and 10 Gbps, he added.

https://www.telecompaper.com/news/telenor-norway-signs-5g-testing-agreement-with-huawei–1186215

Turkey

march 2017
Turkcell

ZTE

3

Turkcell has signed a Memorandum of Understanding (MoU) with ZTE to collaborate on developments including "Gigabit-capable passive optical networks" (GPON) and 5G.
The two companies explained the strategic agreement includes cooperation on fixed network and wireless products such as customer premises equipment, GPON, dense wavelength division multiplexing and 5G.

http://www.rcrwireless.com/20170307/carriers/zte-turkcell-5g-tag23

Turkey

march 2017
Turk Telekom

Nokia

Energy
Media and Entertainment
Smart Buildings
Smart Cities

Broadcast and Streaming Functions
3

Turk Telekom has tested NB-IoT technology in its own network in Turkey as a first operator with Nokia as an important step of 5G strategy of Turk Telekom. Turk Telekom and Nokia have shown demo in a virtual stadium covered by 5G in MWC.

http://www.hurriyet.com.tr/turk-telekom-ile-sicaklik-takibi-cebe-girecek-40280444

Turkey

march 2017
Turk Telekom

Huawei

3

Turk Telekom has signed MoU with Huawei announced they will have cooperation to develop 5G technologies in MWC

https://www.chip.com.tr/haber/turk-telekom-ve-huaweiden-5gde-dev-is-birligi_68247.html

Germany

february 2017
Telefónica

Huawei

3.4 - 3.8 GHz

Deutsche Telekom
Broadcast and Streaming Functions
2

3.5 GHz LTE TDD Massive MIMO outfield trial, running 16 terminals simultaneously over 20MHz spectrum on the 3.5 GHz band with a peak downlink rate of 650 Mbps on the Telefonica O2 sub network in Munich

https://www.telefonica.de/fixed/news/6015/tech-city-munich-reaches-next-milestone-on-its-way-to-5-g-telefonica-germany-launches-the-worlds-first-3-5-g-hz-massive-mimo-field-trial.html

France

february 2017
Orange

Huawei

Cloud and Edge computing functions, Targeted Virtual Networks
3

Orange and Huawei have signed a partnership agreement to cooperate on 5G and cloudification technologies. The two companies will focus on the development of Massive MIMO, cloudification of the mobile network, network slicing, 4G and 5G power and channel sharing within spectrum bands.

 



http://www.huawei.com/en/news/2017/2/ORANGE-HUAWEI-PARTNERSHIP-5G-CLOUDIFICATION

Germany

february 2017
Huawei

Automotive and Road Transport

3

The current project addresses the requirements of cooperative emergency maneuvers to increase the safety aspects of HAD. Huawei and DLR are also looking to more complex cooperative joint maneuver of vehicle platoons on highways and urban roads, for instance cooperative change in lanes and cooperative platooning with short distances to increase the efficiency of traffic and to save energy.

http://www.huawei.com/en/news/2017/2/DLR-Test-5G-Cooperative-Automated-Driving

Germany

february 2017
Deutsche Telekom

Ericsson

SK Telecom
Targeted Virtual Networks
2

Deutsche Telekom, Ericsson and SK Telecom established intercontinental 5G trial network. Trials have demonstrated end-user experiences with 5G roaming, and DT and SK Telecom network slices are now available in the other operator's footprint, connecting Germany and South Korea.

https://www.ericsson.com/news/2078736

United Kingdom

february 2017
Vodafone

Ericsson
Qualcomm

Media and Entertainment

Qualcomm
Broadcast and Streaming Functions
3

Vodafone, Ericsson and Qualcomm are collaborating on a 5G New Radio (NR). The trial will focus on 5G NR technologies that utilise wide bandwidths in order to increase overall network capacity and achieve multi-Gbps data rates. The 3GPP's 5G NR standard-based interoperability testing and trials will begin in the second half of 2017.

https://www.ericsson.com/news/170227-ericsson-qualcomm-and-vodafone-trial-5g_244010065_c

Turkey

january 2017
Turkcell

Ericsson

15 GHz

3

Turkcell is collaborating with Ericsson in 5G network equipment tests in Istanbul which achieved a peak data speed of 24.7Gbps using the 15GHz frequency band.

http://telecoms.com/478889/turkcell-and-ericsson-hit-25-gbps-in-5g-test/

France

january 2017
Orange

Ericsson
Qualcomm

Automotive and Road Transport

PSA
Targeted Virtual Networks
3

Orange, Ericsson and PSA signed a partnership agreement to drive 5G technology for automotive applications, focused on "Vehicle-to-Vehicle" (V2V) and "Vehicle-to-Everything" (V2X) architecture. Initial tests will use an end-to-end architecture system based on LTE technology before evolving to LTE-Vehicle and 5G technologies.

https://www.orange.com/en/Press-Room/press-releases-2017/Ericsson-Orange-and-PSA-Group-to-partner-on-5G-connected-car
https://www.fiercewireless.com/tech/qualcomm-hits-road-cv2x-trial-ericsson-orange-psa-france




France

january 2017
Orange

Nokia

Automotive and Road Transport
eHealth
Industry 4.0
Smart Cities

Targeted Virtual Networks, Cloud and Edge computing functions, IoT Enabler Functions, Broadcast and Streaming Functions
3

Orange and Nokia have signed a 5G collaboration agreement. The two companies will work together to develop, trial and introduce solutions for 5G and the digital transformation of vertical industries. This work will also include the application of ultra-broadband leveraging new frequency bands; cloud RAN and massive MIMO; the Internet of Things (IoT); end-to-end network slicing; and energy efficiency techniques.

https://www.nokia.com/en_int/news/releases/2017/01/30/nokia-and-orange-group-collaborate-to-shape-the-future-of-5g-services

Russia

january 2017
VimpelCom

Huawei

3

VimpelCom signed an agreement with Huawei to test 4.5G and 5G technologies. Both companies will test LTE-Unlicensed (LTE-U) and LTE-Advanced Pro (4.5G) technology in January-March 2017, whilst also developing and testing Internet of Things (IoT) and machine-to-machine (M2M) technologies throughout the year.

https://www.telegeography.com/products/commsupdate/articles/2017/01/24/beeline-huawei-testing-4-5g-5g-technologies/

Spain

january 2017
Cisco
Ericsson
HPE
Huawei
Lenovo

Canonical, Rift.io, RedHat, ADVA, Mahindra Comviva, Fortinet, F5, A10 Networks, etc.
Targeted Virtual Networks, Cloud and Edge computing functions, IoT Enabler Functions, Broadcast and Streaming Functions
3

The 1st ETSI NFV Plugtest took place from 23 January to 3 February at the 5TONIC laboratory in Madrid, Spain. 35 commercial and open source implementations were tested for interoperability, including 15 virtual network functions, 9 management and orchestration solutions and 11 NFV platforms. More than 160 engineers were involved in the preparation of the Plugtests, 80 of them on-site, coming from diverse community of NFV implementers, including vendors and key Open Source projects such as ETSI OSM, Open Baton, OPEN-O and OPNFV.

https://www.5tonic.org/news/outstanding-results-first-etsi-nfv-interoperability-test-event

Austria

december 2016
3

ZTE

3

Drei Austria has tested the implementation of 'Pre-5G' Massive MIMO technologies with ZTE, using 4G terminals. Trials increased the capacity of radio cells by up to 6 times compared to LTE.

 



https://www.telegeography.com/products/commsupdate/articles/2016/12/07/drei-zte-complete-massive-mimo-tests/
https://www.drei.at/portal/de/bottomnavi/ueber-drei/presse/presse-details-1244992.html

Germany

december 2016
Ericsson

Media and Entertainment
Transport

Airbus, KTH, Create-Net
Targeted Virtual Networks, Cloud and Edge computing functions, IoT Enabler Functions, Broadcast and Streaming Functions
3

The project solutions are demonstrated through a proof-of-concept infrastructure setup at Airbus in Munich. Network equipment from Ericsson, including ground macro base station radio equipment products, a connectivity and virtualization "flight rack", and 5G virtualized core network functionalities are delivered and operated from Ericsson's ICT Development Center Eurolab near Aachen (which is also engaged in Ericsson's 5G for Germany program, the 5G Connected Mobility infrastructure program and other similar 5G programs). Critical components for seamless mobility between ground networks and small-cell shared networks inside aircraft have already been demonstrated in December 2016. Solutions that also integrate an air-to-ground system for aircraft are planned to be demonstrated in 2017.

https://wireless.kth.se/blog/2017/01/13/kth-airbus-ericsson-create-net-eit-digital-communications-project-icaro-eu-now-air/
http://www.eitdigital.eu/icaro-video

Germany

december 2016
Deutsche Telekom

Huawei

Industry 4.0

Targeted Virtual Networks, Cloud and Edge computing functions, IoT Enabler Functions, Broadcast and Streaming Functions
3

Deutsche Telekom and Huawei have announced the demonstration of 5G technology with the addition of end-to-end (E2E) autonomous network slicing to support diversified 5G services.

https://www.telekom.com/en/media/media-information/archive/5g-autonomous-network-slicing-demonstrated-444778

Italy

december 2016
TIM

Altiostar

Targeted Virtual Networks, Cloud and Edge computing functions
2

TIM carried out live tests of virtual radio access network technology, a further element in the evolution to 5G. The architecture was elaborated in TILab in Turin and tested in Saluzzo. The test included the installation of a virtual server located more than 60 km away from antennas in Saluzzo. Connections were based on Ethernet fronthaul.

http://www.telecomitalia.com/tit/en/archivio/media/note-stampa/market/2016/TIM-Altiostar-VRAN.html

Spain

february 2016
Telefónica

Nokia

Heterogeneous NW Access
3

Telefonica tested Nokia's XGS-PON fiber-to-the-home (FTTH) technology in its labs as a potential mobile backhaul technology for 5G and for aggregated remote access node traffic. The company said that XGS-PON delivered symmetrical speeds of up to 10 Gb/s, which is faster than current GPON technology that Telefonica has deployed.

https://www.nokia.com/en_int/news/releases/2016/12/01/telefonica-prepares-for-5g-with-successful-test-of-nokias-next-generation-fiber-technology-xgs-pon

Spain

december 2016
Telefónica

ZTE

Heterogeneous NW Access
3

Telefonica and ZTE completed 'Pre-5G' Massive Multiple-Input, Multiple-Output (MIMO) live testing in Madrid. All tests were based on existing 4G terminals.

http://www.rcrwireless.com/20161208/carriers/20161208carrierszte-telefonica-5g-madrid-tag23

United Kingdom

february 2016
EE

Huawei

IoT Enabler Functions, Enhanced Privacy and Security Techniques, Targeted Virtual Networks, Broadcast and Streaming Functions
3

BT and Huawei initiated a partnership to explore various aspects of 5G, including network architecture, interface between devices and base stations, network slicing, M2M communications in Internet of Things (IoT) applications, and security technologies.

http://home.bt.com/tech-gadgets/future-tech/bt-huawei-5g-mobile-technology-partnership-11364119667641

Belgium

november 2016
Proximus

Huawei

70 - 80 GHz

Automotive and Road Transport
Media and Entertainment

Broadcast and Streaming Functions
3

Proximus successfully tested 5G technology with the provider Huawei. During the tests, speeds of up to 70 Gbps were reached over millimetre wave at 73GHz.

https://proximus.com/en/news/proximus-first-test-5g-belgium

Spain

november 2016
Telefónica

Huawei

Broadcast and Streaming Functions
2

Telefonica and Huawei achieved 5G tests, using 'user centric and no cell (UCNC) RAN architecture'. Results showed latency decreasing by 95% compared with 'state-of the-art' LTE. Meanwhile, Huawei and Telefonica also achieved the demonstration of mmWave Multi-User MIMO technology based on 5G New Radio (NR) and Massive MIMO TDD technology.

 



https://www.telefonica.com/en/web/press-office/-/telefonica-and-huawei-completed-the-world-s-first-proof-of-concept-test-for-5g-ucnc-radio-access-networks

Estonia

october 2016
Telia

Ericsson

15 GHz

eHealth
Industry 4.0

Broadcast and Streaming Functions
3

Using 800MHz of bandwidth in the 15 GHz band, Telia, together with Ericsson demonstrated a 15 Gbps downlink throughput. It plans to launch its 5G network in Tallinn as early as in 2018.

https://www.ericsson.com/news/1980613

Turkey

october 2016
Vodafone

70 - 80 GHz

3

Vodafone tested 10Gbps 'E-band' point-to-point radio network link technology, which it says will support its plans to launch 5G commercially in 2020 by providing high transmission bandwidth in the 71GHz-86GHz ranges in densely populated urban centres.

https://www.telegeography.com/products/commsupdate/articles/2016/10/03/vodafone-turkey-runs-5g-10gbps-radio-link-tests/

France

october 2016
Orange

Ericsson

3

Orange and Ericsson will develop 5G use cases and service scenarios, including technical alignment and external demonstrations. The partnership will enable 5G technology building blocks, proof of concepts, and pilots across Europe from 2017 onwards, with use cases including:
– wireless multi-gigabits internet access in suburban and rural environments (a first demo reaching 15 Gbps has been performed in January 2017)
– massive and mission critical Internet of Things supporting the digital transformation of industry and society
– ultra large mobile coverage solutions

https://www.ericsson.com/en/press-releases/2016/10/orange-and-ericsson-partner-for-5ghttp://www.globaltelecomsbusiness.com/article/3591390/Orange-Ericsson-forge-5G-partnership.html#/.WMfO5m_hCUk

Germany

october 2016
Vodafone

Huawei

3.4 - 3.8 GHz

Media and Entertainment

2

Vodafone Germany and Huawei performed 5G tests combining low band and high band to test mobility in dense urban city scenarios. Using the C band, 1.5km cell coverage was demonstrated as well as a 5Gbps throughput for a single user.

http://www.huawei.com/en/news/2016/10/Test-Frequency-Bands-Urban%20City

United Kingdom

october 2016
Vodafone

Automotive and Road Transport

Localization Techniques, IoT Enabler Functions
3

Vodafone has started trialling vehicle-to-vehicle communications (LTE-V2X) in the UK and is planning further trials in Germany. LTE-V2X enables cars to chat with each other to improve road safety and efficiency.

http://www.vodafone.com/content/index/what/technology-blog/emergency-braking.html

Finland

september 2016
Sonera

Nokia

4.5 GHz

Broadcast and Streaming Functions
2

Trials in Helsinki of 5G mobile networking capable of delivering data speeds of up to 10Gbps. The trial was built around a 5G-ready network using Nokia AirScale Base Station and a core network solution. 5G network utilised the 4.5GHz frequency band, with downlink speeds over 4.5Gbps recorded. Sonera plans to launch 5G technology with Nokia in Helsinki in 2018.

http://www.mobileeurope.co.uk/press-wire/sonera-jumps-on-5g-trial-bandwagon-with-nokia-demos

Russia

september 2016
Tele2

Nokia

Automotive and Road Transport
eHealth
Smart Cities

Broadcast and Streaming Functions
3

Tele2 and Nokia have signed a Memorandum of Understanding (MoU) to accelerate development of 5G mobile networks. The companies will focus on LTE-Advanced (LTE-A), 5G radio access technologies as well as new Internet of Things (IoT) services.

 



http://en.tele2.ru/press/news/2016/09/tele2-and-nokia-to-develop-5g-technologies/

Russia

september 2016
MTS

Nokia

Media and Entertainment

Broadcast and Streaming Functions
2

MTS and Nokia achieved 5G tests. The operator's tests using Nokia equipment resulted in mobile data rates of up to 4.5Gbps using 200MHz of aggregated frequency bandwidth. By 2018 the partners are planning to operate a 5G system on a segment of MTS' commercial network to coincide with football's World Cup in Russia that year.

http://www.fiercewireless.com/europe/russia-s-mts-and-nokia-claim-to-reach-4-5gbps-speeds-5g-trials

Russia

september 2016
MTS

Samsung

Broadcast and Streaming Functions
3

MTS and Samsung signed a MoU to 'jointly explore and advance new telecommunications technologies' on the path towards 5G. Both companies will work together on technologies including advanced carrier aggregation, MIMO, LTE Broadcast (eMBMS) as well as Internet of Things (IoT) technologies such as NB-IoT and LTE-Machine (LTE-M).

 



http://www.samsung.com/global/business/networks/insights/news/samsung-and-mobile-telesystems-sign-mou-to-collaborate-on-next-generation-technologies

Estonia

august 2016
Tele2

Nokia

3

Tele2 Eesti and Nokia tested 5G mobile broadband technology in Tallinn. The trial achieved downlink speeds of 4.5Gbps, although the precise technical specifications used during the tests have not been made available.

 



https://www.telecompaper.com/news/tele2-tests-5g-in-the-baltics–1157851

Finland

august 2016
Elisa

Nokia

Automotive and Road Transport
eHealth
Industry 4.0
Media and Entertainment

2

Elisa tested 5G network in Helsinki using Nokia 5G technology, achieving 5 Gbps in the trial.

http://www.lteto5g.com/elisa-achieves-5-gbps-5g-trial-nokia/

Lithuania

august 2016
Tele2

Nokia

Automotive and Road Transport
eHealth
Energy
Industry 4.0
Media and Entertainment
Smart Cities

Broadcast and Streaming Functions
2

Tele2 Lithuania demonstrated pre-5G technology in Vilnius with equipment vendor Nokia, during which speeds of up to 4.3 Gbps were achieved.

http://l24.lt/en/society/item/144011-5g-network-makes-debut-in-fast-and-open-vilnius

United Kingdom

august 2016
EE

Nokia

Automotive and Road Transport
eHealth
Media and Entertainment

Broadcast and Streaming Functions
3

BT (EE) signed a collaboration agreement on 5G technologies with Nokia. They agreed to work together on potential customer use cases for 5G technologies, the creation of 5G trials and the development of the emerging technology. These trials will focus on mmWave radio and convergence, as well as potential commercial services including ultrafast mobile broadband and the Internet of Things (IoT).

http://home.bt.com/tech-gadgets/future-tech/bt-and-nokia-to-collaborate-on-development-of-5g-11364080303221

United Kingdom

july 2016
Vodafone

Huawei

70 - 80 GHz

Automotive and Road Transport
Media and Entertainment

3

20 Gbps downlink throughputs demonstrated by Vodafone UK using the E band (70-80 GHz) with Huawei equipment in an outdoor scenario. This throughput leverages a single user MIMO solution using multipath to augment throughputs. Another test with a Multi User MIMO solution provided 10 Gbps on a longer range

http://www.huawei.com/en/news/2016/7/huawei-vodafone-5g-test

Germany

july 2016
Deutsche Telekom

Nokia

Media and Entertainment

Senate Department for Economics, Technology and Research, Germany
3

Deutsche Telekom and Germany's Senate Department for Economic, Technology and Research are cooperating on the development of a 5G test bed in Berlin. The network will enable enterprises, start-ups and organisations to trial a range of 5G innovations, applications and communications devices in real time through to 2020.

https://www.telekom.com/en/media/media-information/consumer-products/future-of-digital-5g-entertainment-unveiled-in-berlin-435936

Italy

june 2016
TIM

Ericsson

3

TIM signed an agreement with Ericsson to collaborate on the "5G for Italy" programme, launched in 2015. The partnership also aims to facilitate the transition from existing mobile networks to 5G, supporting the standardisation work to make 5G a global standard.

   



http://www.telecomitalia.com/tit/en/archivio/media/note-stampa/market/2016/TIM-Ericsson-5G-06-06-2016.html

Germany

april 2016
Telefónica

Ceragon
Ericsson
Huawei
NEC
SIAE
Tech Mahindra
Wipro

Deutsche Telekom, AT&T
Programmability of wireless transport networks through standard information models (1st PoC)
3

Second Proof of Concept for the applicability of SDN to wireless Transport Networks through open protocols. This progammable capabilities permit to adapt transport resources to the dynamic nature of 5G services. Information model defined and tested. Standardized as ONF TR-532 in December 2016.

https://www.opennetworking.org/images/stories/downloads/sdn-resources/technical-reports/Wireless_Transport_SDN_PoC_White_Paper.pdf 

Spain

november 2015
Ceragon
Coriant
Ericsson
Huawei
NEC
SIAE

Programmability of wireless transport networks through standard information models (1st PoC)
3

First ever Proof of Concept for the applicability of SDN to wireless Transport Networks through open protocols. This progammable capabilities permit to adapt transport resources to the dynamic nature of 5G services. Multi-layer capabilities were tested, involving IP and MW.

http://5g-crosshaul.eu/wireless-transport-sdn-proof-of-concept/

 


Wireless Transport SDN PoC White Paper:
https://www.opennetworking.org/images/stories/downloads/sdn-resources/white-papers/ONF_Microwave_SDN_PoC_White_Paper%20v1.0.pdf
ONF Press release:
https://www.opennetworking.org/news-and-events/press-releases/2572-open-networking-foundation-completes-industry-s-first-wireless-transport-sdn-proof-of-concept

Turkey

august 2015
Huawei

3

Turkcell signed a Memorandum of Understanding (MoU) with Huawei to cooperate on the development of 4.5G and 5G technology.

http://www.huawei.com/en/news/2016/8/MoU-to-activate-the-Customer-Business-Partnership-Program

Germany

february 2015
Huawei

eHealth

3

In cooperation with the Bavarian State Government, the city of Munich, Technische Universitat Munchen (TUM) and M-Net, Huawei is building the 5G Vertical Industry Accelerator (5G VIA), a large experimental system for testing promising 5G communication concepts.

https://www.huawei.eu/media-centre/press-releases/huawei-builds-large-scale-5g-testbed-real-life-environment-munich

Croatia

july 2018
VIPnet

3.4 - 3.8 GHz

HAKOM
3

Vipnet conducted 5G trials in Croatia, achieving speeds of 20 Gbps.
Download and upload data both ran at 3.5GHz .

https://www.total-croatia-news.com/made-in-croatia/29794-vipnet-introduces-highest-5g-data-speeds-in-croatia

Finland

september 2018
Telia

Nokia

3.5 GHz

3

Telia Finland announced a pilot 5G network in Helsinki. The operator aims to start commercial 5G services at the beginning of 2019.

https://www.teliacompany.com/en/news/news-articles/2018/5g-helsinki/

Finland

july 2018
Elisa

28 GHz
3.4 - 3.8 GHz

1

ELISA announced that it had begun commercial use of a 5G network in Finland where a sufficient amount of frequencies has been allocated for test, demonstration and experimental use.

https://news.itu.int/finland-5g-development/

France

july 2018
Orange

Nokia

3.4 - 3.8 GHz

2

Under Decision No. 2018-0177 from Arcep, Orange will be allowed to use the 3.5GHz spectrum for 5G trials for twelve months starting June 2018, in over 30 French cities including Lille and Douai.
Orange had already started installing its equipment at 30 sites in Lille and 48 sites at Douai in the 3600-3700 MHz frequency band.
The operator is now moving to Marseille.

The operator announced 7 new 5G sites for pilot tests on the 3.5 frequency band, six of which are deployed in Bouches-du-Rhône, and one is in the Hauts-de-Seine.

https://www.telegeography.com/products/commsupdate/articles/2018/07/04/bouygues-orange-announce-new-5g-trials/
https://www.frandroid.com/telecom/514602_5g-orange-a-marseille-bouygues-telecom-a-bordeaux-sfr-a-nantes-et-toulouse
https://www.numerama.com/tech/438560-5g-7-nouvelles-stations-experimentales-ont-ete-autorisees-en-france.htmlaa

France

july 2018
SFR

3.4 - 3.8 GHz

3

SFR announced its 5G trials on the cities of Toulouse and Nantes.

https://www.frandroid.com/telecom/514602_5g-orange-a-marseille-bouygues-telecom-a-bordeaux-sfr-a-nantes-et-toulouse

Netherlands

august 2018
VodafoneZiggo

3

VodafoneZiggo started tests in around 20 homes and small businesses in Utrecht. They will test increased network capacity and broadband speeds of 1 Gbps download and 100 Mbps upload.

https://www.telegeography.com/products/commsupdate/articles/2018/08/22/vodafoneziggo-tests-docsis-3-1-in-utrecht/

Spain

july 2018
Vodafone

Huawei

3.4 - 3.8 GHz

3

The launch of 5G trials was announced in the cities of Madrid, Barcelona, Valencia, Bilbao, Malaga and Seville by Vodafone. The announcement follows the recent acquisition of 90 megahertz of spectrum in the the 3.6-3.8 GHz band by the operator for €198 million.

https://www.rcrwireless.com/20180730/5g/vodafone-launches-5g-trials-tag23

Switzerland

september 2018
Swisscom

Ericsson

3.4 - 3.8 GHz

Media and Entertainment

2

Ericsson and Swisscom conducted a multivendor 5G Non-Standalone data call on the 3.5 GHz band in Burgdorf, Switzerland. The data call was conducted using Ericsson's commercial HW/SW (NSA-compliant) Ericsson Radio System with AIR 6488, Baseband 6630, R6000 Transport and virtual EPC for 5G. Data transmissions were carried out using Intel's Mobile Trial Platform (MTP) device and Swisscom's 5G-subscribed SIM card.

http://www.communicationsafrica.com/mobile/ericsson-and-swisscom-get-5g-ready-for-business

Italy

may 2018
TIM

Nokia
Qualcomm

3

TIM announced its partnership with Nokia and Qualcomm for the activation of 5G network hubs in San Marino where millimeter wave 5G mobile test devices will be experimented using the Snapdragon X50 modem.

http://telecoms.com/489917/tim-nokia-and-qualcomm-do-some-5g-stuff-in-san-marino/

Estonia

march 2018
Elisa

Huawei

3.4 - 3.8 GHz

2

The mobile operator Elisa cooperated with Huawei for testing the 5G network preliminary standard using frequencies from the 3.5 GHz band and achieving speeds of up to 1.8 Gps. Huawei's 5G routers were used for the test, equiped with self-developed Balong 5G01 chipset that support tje 3GPP standard for 5G.
Elisa's commercial network enables a maximum speed of 600 Mbps.

https://www.telecompaper.com/news/elisa-tests-5g-technology-with-huawei-in-estonia–1236285

Finland

september 2018
Telia

Nokia

2

A pilot 5G network using Nokia equipement was inaugurated in Helsinki by Telia Finland in the perspective of launching 5G commercial services in early 2019.

https://www.telecompaper.com/news/telia-starts-running-pilot-5g-network-in-helsinki–1259426

Netherlands

august 2018
VodafoneZiggo

Nokia

2

VodafoneZiggo starts Docsis 3.1 tests with customers in Utrecht
Around 20 premises, including homes and small businesses, will test increased network capacity and broadband speeds of 1 Gbps and higher
The tests in Utrecht will already support speeds of 1 Gbps download and 100 Mbps upload.

https://www.telecompaper.com/news/vodafoneziggo-starts-docsis-31-tests-with-customers-in-utrecht–1257624?utm_source=headlines_-_english&utm_medium=email&utm_campaign=22-08-2018&utm_content=textlink

https://www.thefastmode.com/technology-solutions/13200-vodafoneziggo-starts-docsis-3-1-pilot-trials-for-network-of-the-future

United Kingdom

september 2018
Vodafone

Media and Entertainment

3

Vodafone demonstrated a holographic call using 5G. The demonstrated speed of 5G would enable other applications such as remote robotic surgery and 4K gaming on the move.

https://mediacentre.vodafone.co.uk/news/vodafone-makes-uks-first-holographic-call-using-5g

Germany

september 2018
Telefónica

Samsung

26 GHz

1

Telefónica Deutschland and Samsung Electronics agreed on 20 Fixed Wireless Access (FWA) trials in Germany.
About 20 households in Hamburg will test the Gigabit technology from November over a period of three months.

https://news.samsung.com/global/telefonica-deutschland-and-samsung-test-5g-fixed-wireless-access-in-germany

Poland

september 2018
Orange

Huawei

3.4 - 3.6 GHz

2

Orange Polska and Huawei launched a station supporting 5G technology in Gliwice. It is the first 5G tests in Poland carried out outside a laboratory on 3.4-3.6 GHz frequency.

http://wbj.pl/orange-polska-and-huawei-test-5g-technology-in-gliwice/

France

september 2018
Nokia

Media and Entertainment

France TV
3

The Nokia and France Télévisions demonstrated the ability of 5G to offer a speed equivalent to fiber, enabling the future broadcast of 8K content on any compatible device, including televisions.

https://www.nokia.com/en_int/news/releases/2018/09/13/nokia-and-france-televisions-show-how-5g-can-enhance-viewers-video-experiences-with-8k-ultra-high-definition-streaming

Spain

september 2018
Vodafone

Huawei

3.7 GHz

2

Vodafone with Huawei have installed 5G network nodes at La Nave in Madrid. The deployment supported demonstrations related to the potential impact of 5G. The network is on the 3.7 GHz band, enabling download speeds of up to 2.2 Gbps.

https://www.telegeography.com/products/commsupdate/articles/2018/09/24/vodafone-installs-5g-node-at-la-nave-in-madrid/index.html

Russia

september 2018
MegaFon
Rostelecom

26 GHz

3

Russian mobile operator Megafon and national operator Rostelecom have tested 5G on the 26 GHz band.

https://www.telecompaper.com/news/rostelecom-megafon-test-5g-on-the-2600-mhz-band–1261783

Estonia

september 2018
Telia

Ericsson

Taltech University
3

Telia and Ericsson launching a 5G pilot network in Estonia at TalTech University campus. This should enable the developement of future services and new business models.
TalTech was chosen for this pilot because it is equipped with the nessesary infrastructure and potential of scientific innovation.

https://www.ericsson.com/en/news/2018/9/estonia-pilot-5g-network?utm_source=twitter&utm_medium=social_organic

Spain

october 2018
Orange

Automotive and Road Transport
Industry 4.0
Transport
Virtual Reality

2

Orange Spain announced 5G pilot tests in seven cities lasting until the end of 2019. The selection includes Barcelona, Seville, Santiago de Compostela, Vigo, Malaga, Valencia and Bilbao for the testing of 35 use scenarios of 5G networks applied to connected cars, industrial automation and virtual classrooms.

https://www.telegeography.com/products/commsupdate/articles/2018/10/26/orange-unveils-seven-spanish-5g-test-cities/
https://www.telecompaper.com/news/orange-to-test-5g-in-7-spanish-cities-next-year–1266469

France

october 2018
Orange

Ericsson

3.4 - 3.8 GHz

3

Orange in partnership with Ericsson demonstrated a 5G NR data call  in France. The test achieved a call on 3.4-3.8GHz band between a mobile terminal and a base station.

https://hellofuture.orange.com/en/first-5g-nr-call-france-connections-live/

Germany

october 2018
Telefónica

Samsung

26 GHz

3

Telefonica Deutschland announced a trial for 26GHz FWA technology in Hamburg with equipment from Samsung, aiming next for commercial trials as well.

https://www.mobileworldlive.com/featured-content/top-three/telefonica-deutschland-cto-tips-5g-as-fwa-driver

Spain

november 2018
Telefónica

Nokia
Teldat

Media and Entertainment
Transport

Avanza, the city of Segovia
3


Telefónica , Nokia , TELDAT and Avanza , with the collaboration of the City of Segovia , launched a 5G demonstrator of 4K UHD TV in a moving bus in Spain.




The vehicule was equiped with three 4K TV screens installed  by Telefónica and Avanza, connected to a 4K TV decoder designed by Nokia that connects via the Telefónica mobile network to the hosted video server in the Mobile Edge Computing (MEC) supplied by Nokia.

 

TELDAT has provided a high-performance mobile router enabling a stable and continuous connection with the required quality for real-time transmission of 4K video.




The prototype will stay operational until September 2019.



https://www.telefonica.com/es/web/sala-de-prensa/-/el-ayuntamiento-de-segovia-y-telefonica-ponen-en-marcha-el-primer-demostrador-de-tv-4k-en-movilidad-de-espana

Netherlands

november 2018
KPN

Huawei

2.3 GHz
3.5 GHz
700 MHz

Industry 4.0

Shell, ExRobotics, ABB, Accenture
3

On Rotterdam harbour, on the 6th of November 2018, KPN, Shell, Huawei, ExRobotics, Accenture and ABB have tested industrial 5G-applications. The tests aimed for the optimisation of manufacturing and the improvement of maintenance prediction and safety. The tests at Shell Pernis successfully tested preventive maintenance for around 160,000km of pipelines using  5G-connected UHD-cameras with machine learning.
KPN's experimental 5G network in the Rotterdam harbor uses temporarily allocated 5G test frequencies in the 700MHz, 3500MHz and the 2300 MHz frequency bands.

https://overons.kpn/en/news/2018/kpn-shell-and-partners-test-industrial-5g-applications-in-the-port-of-rotterdam

Netherlands

april 2018
KPN

Huawei
Nokia
ZTE

3.5 GHz

Agriculture
Automotive and Road Transport

3

The Dutch operator KPN openned four 5G labs in the Johan Cruijff Arena in Amsterdam, a farm in the northern town of Valthermond (Drenthe), the port of Rotterdam, and two motorway stretches in the south of the country.
In Amsterdam arena, tests will include massive MIMO antennas from RAN supplier Nokia. At the Valthermond farm, KPN collaborates with ZTE to test sensors and applications for the agricultural sector. KPN partners with Huawei for the Rotterdam trial focusing on network slicing. With the trial on the A270 motorway near Helmond and A58 between Eindhoven and Tilburg, KPN contributes the EU R&D project Concordia for autonomous vehicles.

http://www.gtigroup.org/news/ind/2018-04-13/12110.html

United Kingdom

november 2018
EE

2

EE opened nine additional sites in busy areas of east London for 5G trials. The tests will aim for evaluating customer experience with businesses and consumers in the selected areas.

https://www.mobileworldlive.com/featured-content/top-three/ee-bulks-up-5g-trials-as-uk-race-hots-up/?ID=0031r00002251UKAAY&jobid=137748&utm_source=sfmc&utm_medium=email&utm_campaign=MWL_20181107&utm_content=https%3a%2f%2fwww.mobileworldlive.com%2ffeatured-content%2ftop-three%2fee-bulks-up-5g-trials-as-uk-race-hots-up
https://newsroom.ee.co.uk/ee-announces-5g-launch-locations-for-2019/

Sweden

october 2018
Ericsson
Qualcomm

3.5 GHz

2

Qualcomm and Ericsson successfully made a 3GPP Rel-15 spec compliant 5G NR over-the-air (OTA) call on the 3.5 GHz band on a smartphone in the Ericsson Lab in Stockholm, Sweden.
This sub-6 GHz call used Ericsson's baseband products and commercial 5G NR radio AIR 6488. The smartphone was powered by the Qualcomm Snapdragon X50 5G modem and RF subsystem.

https://www.qualcomm.com/news/releases/2018/10/22/qualcomm-and-ericsson-successfully-make-first-3gpp-compliant-5g-nr-sub-6

Netherlands

january 2017
KPN
Vodafone

Ericsson
Huawei

Agriculture
eHealth
Energy
Smart Buildings
Transport

TNO, SURF
2

In the frame of European project "5Groningen" in the Netherlands, tests for 5G applications are undertaken in five different themes: care, energy, traffic & logistics, agriculture and living environment. This initiative from the Economic Board Groningen (EBG) was launched in early 2017 in collaboration with KPN, Vodaphone, Ericsson, Huawei and others.

https://www.5groningen.nl/

Switzerland

november 2018
Swisscom

Ericsson
Qualcomm

3.5 GHz

3

Swisscom connected a prototype mobile device running a Qualcomm 5G mid-band modem to a test network in the city of Lucerne. The Swiss market leader collaborated with Ericsson to demonstrate a connection to a 5G hotspot from the Taiwanese manufacturer WNC. These over-the-air connections used 3.5GHz spectrum.

https://www.mobileworldlive.com/

France

november 2018
Bouygues Telecom
Orange

3.5 GHz

2

7 new experimental stations have been authorized in France. The first six are operated by Orange and are mainly deployed in Bouches-du-Rhône, and one is located in the Hauts-de-Seine. The seventh belongs to Bouygues Telecom and is in Gironde.
Since the beginning of the year, operators have obtained licenses from the telecoms regulator to test 5G in the 3.5 GHz band on French territory. A dozen pilot sites must be put in place by 2019. Bordeaux, Douai, Lille, Lyon, Marseille, Nantes, Toulouse or Villeurbanne are involved in experiments in anticipation of the future deployment of ultra-high speed mobile networks.



https://www.numerama.com/tech/438560-5g-7-nouvelles-stations-experimentales-ont-ete-autorisees-en-france.html

Portugal

december 2018
Huawei

Altice
3

Altice signed a Memorandum of Understanding with Huawei with a view to implementing 5G services in Portugal. Both partners will work on 5G use cases in a live testing network environment.

https://www.huawei.com/en/press-events/news/2018/12/altice-portugal-huawei-5g-partnership

Hungary

september 2018
Vodafone

3.5 GHz

3

Vodafone Hungary demonstrated an online live video broadcast via a 5G trial network at the Internet Hungary conference. Vodafone's trial system is using the 3.5GHz frequency band.

https://www.telegeography.com/products/commsupdate/articles/2018/09/28/vodafone-hungary-demos-5g-video-in-3-5ghz-band/

Portugal

june 2018
MEO

Huawei

3.6 GHz

3

Altice-backed PT Portugal (MEO) annouced the trial of 5G network with Huawei using the 3.6GHz frequency band.

https://www.telegeography.com/products/commsupdate/articles/2018/06/12/altice-backed-meo-to-trial-3-6ghz-5g-with-huawei/

Portugal

july 2018
MEO

Huawei

3.6 GHz

3

MEO and Huawei achieved DL speeds of 1.5Gbps in a Lisbon-based 5G trial using 3.6GHz spectrum.

https://www.telegeography.com/products/commsupdate/articles/2018/07/06/meo-achieves-1-5gbps-in-portuguese-5g-test/

Portugal

november 2018
MEO

Ericsson

3

MEO and Ericsson demonstrated 5G augmented reality at the Web Summit in Lisbon. The demo consisted of the recording of participants that can be seen in 3D and in real time by the visitors using hololens smart glasses.

https://www.telecompaper.com/news/ericsson-and-altice-showcase-augmented-reality-5g-demo–1268318

Austria

july 2018
3

ZTE

3

ZTE and Hutchison Drei Austria signed a strategic partnership to prepare for 5G deployment. They jointly created an 'Innovation Lab' initiative to test different use cases and solutions for the Austrian market.

https://www.telegeography.com/products/commsupdate/articles/2018/07/19/zte-hutchison-drei-unveil-5g-partnership/

Belgium

september 2018
Orange

Nokia

3.5 GHz

3

Orange Belgium tested 5G use cases in Liege, in partnership with Nokia. Both partners demonstrated 5 different use cases, achieving speeds of up to 6 Gbps in the 3.5 GHz band. Orange plans to roll out 5G networks by 2020.

https://globenewswire.com/news-release/2018/09/10/1568352/0/en/Orange-Belgium-is-the-first-to-present-5G-real-use-cases-demos-in-Belgium.html

Denmark

august 2018
Telia

3

Telia organised 5G demonstrations at its HQ in Copenhagen The operator is said to launch 5G services by 2020.

https://www.telegeography.com/products/commsupdate/articles/2018/08/16/telia-denmark-conducts-5g-demonstrations-at-headquarters/

Norway

november 2018
Telenor

1

Telenor launched a 5G testbed in Norway. Five families residing in the town will have the opportunity to try out broadband and television services delivered via 5G to their homes. It was launched at the technology and innovation conference Kongsberg Summit.

https://www.telegeography.com/products/commsupdate/articles/2018/07/05/telenor-group-tasked-with-coordinating-pan-european-5g-project/
https://www.telenor.com/media/press-release/telenor-group-to-coordinate-pan-european-5g-project

Turkey

november 2018
Turk Telekom
Turkcell
Vodafone

BTK
2

Turkish telecommunications regulator BTK organised 5G open field tests at the '5G BTK Market Surveillance Laboratory' located in the campus of Ankara's Hacettepe University. The test involved the local operators Turk Telekom, Turkcell and Vodafone Turkey.

https://www.telegeography.com/products/commsupdate/articles/2018/11/14/btk-launches-turkish-5g-open-lab/

France

october 2018
SFR

3.5 GHz

3

SFR has achieved downlink speeds of 2.3Gbps in a live 5G demonstration at its headquarters. The trial showcased a stream 4K content. SFR used radio infrastructure and equipment from Huawei, along with core network components provided by Cisco. The company achieved peak data speeds of 1.6Gbps via a pre-commercial terminal using frequencies in the 3.5GHz band. The 5G active antenna used Massive MIMO technology and was composed of 64 transmitters and 64 receivers. In addition, in Reunion, SFR has trialled 5G technology achieving download speeds of 1.6Gbps. The operator is planning to commercialise the technology in 2020/2021.

https://www.marketscreener.com/SFR-GROUP-14833992/news/SFR-Altice-France-achieves-2-3Gbps-speeds-in-5G-demo-trials-5G-in-Reunion-27397249/

Germany

november 2018
Vodafone

Ericsson
Intel

3

Vodafone has deployed its first 5G mast in city of Aldenhoven, covering a 400,000 square metre testing area. The company showcased a 5G demonstration in which a holographic phone call was made between Vodafone Germany CEO Hannes Ametsreiter in Dusseldorf and a minibus belonging to electric vehicle manufacturer e.GO in Aldenhoven.
Ericsson and Intel served as the technology partners for the test.

https://www.rcrwireless.com/20181102/5g/vodafone-activates-first-5g-mast-germany-announces-5g-partners

Ireland

november 2018
Vodafone

Ericsson

3

Vodafone showcased a holographic video call to the group's innovation centre in Ireland using 5G technology. The call was carried over the cellco's first live 5G cell site, which has been installed in Dublin's docklands area.
5G trial network used Ericsson equipment as well as the operator's recently acquired 3.6GHz spectrum.

https://www.irishtimes.com/business/technology/5g-arrives-in-ireland-as-vodafone-launches-test-site-in-dublin-1.3704608

Italy

november 2018
Wind Tre

ZTE

3

Wind Tre and ZTE demonstrated 5G network-based drone HD and panorama VR live streaming at the Chinese company's 5G Summit in L'Aquila.

https://www.zte.com.cn/global/about/press-center/news/201811/20181115
https://www.telecompaper.com/news/zte-wind-tre-trial-vr-and-drone-streaming-over-laquila-5g-network–1269440


Netherlands

december 2018
KPN

Nokia

3.5 GHz

Media and Entertainment
Smart Cities

2

The municipality of Amsterdam successfully tested 5G applications based on fan experience and safety inside the stadium and outside on the Arena boulevard over the 3.5 GHz frequency, using a license with a bandwidth of 40 MHz in the 3.7 GHz band.
KPN collaborated with Johan Cruijff ArenA and the vendor Nokia for the setup of this 5G test that enables the transmission of real-time high-resolution camera images.
The launch of this 5G field lab in Amsterdam Zuidoost (South-East Amsterdam) aims for the improvement of cities sustainability and safety.


https://overons.kpn/nl/nieuws/2018/5g-field-lab-amsterdam-zuidoost-van-start-gegaan

United Kingdom

december 2018
Telefónica

Huawei

1

The British operator O2 (Telefonica UK Limited) announced 5G trials over 200 sites in London, using Huawei equipment, to prepare for the 5G commercial launch in 2019.

https://www.techradar.com/news/o2-confirms-5g-tests-will-use-huawei-kit

France

december 2018
Orange

Nokia

3

In order to test 5G performance in 2019 before the expected commercial launch in 2020, Orange announced its partnership with Nokia to launch a test phase in Marseille where 500 selected locals will have access to the 5G Network. Similar tests will take place in Nantes Lilles and Paris.

In January 2019, Orange announced the installation of 80 5G antennas in Marseille, 40 of which should be installed by spring 2019, and the rest before the end of 2019. This should enable the 2020 commercial deployment of the 5G network in the 3.5 GHz spectrum band, which will be tested by 500 selected users in 2019.
First tests should reach download speeds of 400 Mbps to 2 Gbps and upload speeds between 20 and 50 Gbps with a latency around 10 to 15 milliseconds. Two to three years after the 5G commercial deployment (planned in 2020) speeds are expected to reach 1 to 10 Gbps with 2 to 5 milliseconds latency.

https://www.cnetfrance.fr/news/5g-orange-prepare-une-premiere-phase-de-tests-pour-2019-39878361.htm
https://www.frandroid.com/telecom/558088_jusqua-2-gbps-et-10-ms-comment-orange-compte-deployer-sa-5g-en-2019

Italy

january 2019
Fastweb

Huawei

eHealth
Industry 4.0
Public Safety
Smart Utilities
Transport

2

Cagliari will be the 6th Italian city to test 5G (after Milan, Prato, L'Aquila, Bari and Matera) since the government's approval for 5G trials in the city by the local telco Fastweb in partnership with the vendor Huawei to develop IT solutions and services in the areas of health, transport, waste management, logistics, security and Industry 4.0.
This trial involves the Joint Innovation Centre (project by Huawei), the Sardinian regional government, the municipality of Cagliari, local advanced studies institute CRS4, as well as other local institutions, universities, small and medium companies.
The local carriers, including Fastweb, secured spectrum in the 694-790 MHz, 26.5-27.5 GHz and 3.6-3.8 GHz bands at the completition of the spectrum tender in October 2018.



https://www.rcrwireless.com/20190108/5g/italian-government-approves-5g-trial-cagliari

France

january 2019
Bouygues Telecom

Ericsson
Qualcomm

3.4 - 3.8 GHz

3

Bouygues Telecom collaborated with Qualcomm and Ericsson to complete a 5G call in real conditions in Lyon using mobile terminals powered by Qualcomm's Snapdragon X50 modem and Ericsson 6488 active radio antennas connected to a fiber optic network core.
In 2018, the French regulator Arcep offered spectrum in the 3.5 GHz band (3400 – 3800 MHz) in the city of Lyon, as well as Bordeaux, Nantes, Lille, Le Havre, Saint-Étienne, Douai, Montpellier and Grenoble.

https://www.rcrwireless.com/20190108/5g/bouygues-telecom-completes-5g-call-lyon-qualcomm-modem

Greece

january 2019
Deutsche Telekom

Ericsson

70 - 80 GHz

2

Deutsche Telekom and Ericsson's live 5G demonstration achieved an ultra-low latency connection with fiber-like results over a wireless backhaul (5G X-Haul Solution). This joint innovation project took place in Deutsche Telekom Service Center in Athens and used Ericsson's mobile transport technologies, including the MINI-LINK 6352 microwave solution and Router 6000.
The demonstration achieved a data transmission rate of 40Gps and a round-trip latency below 100 microseconds over a hop distance of 1.4 kilometres using the E-band (60-90GHz) spectrum of mmWaves.

https://www.ericsson.com/en/press-releases/2019/1/deutsche-telekom-and-ericsson-achieve-fiber-like-results-with-wireless-backhaul

Italy

december 2018
TIM

Qualcomm

Automotive and Road Transport
Industry 4.0
Media and Entertainment
Transport
Virtual Reality

2

The first European 5G NR video call was achieved in Rome over TIM's 5G network in mmWaves frequency band, powered by the Snapdragon X50 5G modem equipment from Qualcomm Technologies Inc. The network infrastructure was provided by Ericsson.
TIM demonstrated its new ultra-fast mobile network with a remote-driven car, a remote control of industrial robots, a remote virtual visit of museums and artworks, and a remote tactile control systems and multiplayer interactive video games in augmented reality.
The event involved other partners such as Nokia, Samsung, LG, Sony, Xiaomi and ZTE which presented, their 5G smartphone prototypes, 5G Fixed Wireless Access solutions, and innovative services around 5G networks.

https://www.lightreading.com/mobile/5g/tim-qualcomm-boast-5g-video-call-first/d/d-id/748230

France

february 2019
Orange

Samsung

1

Doubts about privacy issues concerning Huawei's 5G equipment led Orange to run tests with Samsung's equipment in Saint-Ouen in order to prepare for the case where the Chinese vendor is banned from France.
Orange have already deployed Huawei's 5G antennas in Montpellier for trials, and the CEO Stéphane Richard doesn't seem to worry about the Chinese manufacturers Huawei and ZTE, but the other French operators are already applying the rule of using no more than 50% of Huawei's equipment for sensitive parts of the Networks, and none in Ile-De-France region.

https://www.universfreebox.com/article/48536/5G-Orange-prend-ses-precautions-et-teste-des-equipements-reseaux-avec-Samsung

Spain

february 2019
Vodafone

Huawei

3.4 - 3.8 GHz

3

During the MWC 2019, Huawei and Vodafone demonstrated their capability of providing a superior 5G experience based on a live network and 5G devices. Using Huawei's E2E products and solutions, Vodafone deployed high performance 5G networks in multiple sites across Barcelona City Center (Plaza Catalunya, Paseo de Gracia, Balmes and Universitat) were users could experiment 5G service using Huawei's 5G smartphones.
For the demonstration, 80MHz of the C-Band spectrum were used to achieve 1.7Gbs download peak rate with an average of 800Mbps downlink throughput over the covered geographical area. The multiple gNodeBs (5G) provided the same coverage as the eNodeBs (4G LTE).

https://www.huawei.com/en/press-events/news/2019/2/huawei-vodafone-superior-5g-experience-live-network-5g-devices

Netherlands

april 2019
VodafoneZiggo

Ericsson

3.5 GHz

3

5G is tested in Eindoven in the Netherlands by Ericsson and Vodafone Ziggo using spectrum in the 3.5 GHz band, temporarily allocated by the Radio Communications Agency of the Ministry of Economic Affairs and Climate Policy. The rollout of 5G will cover numerous locations in the Dutch city.

https://www.rcrwireless.com/20190401/5g/ericsson-vodafonezigo-test-5g-technology-netherlands

Spain

april 2019
Orange

ZTE

3

Orange Spain and ZTE successfully carried out a voice and data call over 5G network using New Radio (NR) standalone (SA) architecture. The test took place in Valencia and achieved speeds up to 876 Mbps for a single terminal, and 3.2Gbps with 12 simultaneous terminals.
Orange Spain announced the extention of 5G trials accross many verticals including construction, energy, health, automotive, and tourism. The tests will be carried out in Valencia, Seville, Malaga, Vigo, Santiago de Compostela, Barcelona and Bilbao. The telco als sain that 5G commercial networks will be deployed in "three or four" Spanish cities in 2019 before the official launch scheduled in 2020.


https://www.rcrwireless.com/20190404/5g/orange-spain-zte-complete-voice-data-call-over-5g-sa-network

United Kingdom

april 2019
Vodafone

3

Vodafone tested 5G at a train station in Birmingham as part of a large scale nation-wide trial. This is a first step before the rollout of 5G in numerous commuter locations in the U.K. by the end of 2019.
The telco initially planned to launch commercial 5G in 12 cities including Birkenhead, Blackpool, Bournemouth, Guildford, Newbury, Portsmouth, Plymouth, Reading, Southampton, Stoke-on-Trent, Warrington and Wolverhampton.
5G sites in Bristol, Cardiff and Liverpool have been switched on. 5G antennas have been installed in Birmingham, Glasgow and London, ready to go live within 2019.


https://www.rcrwireless.com/20190408/5g/vodafone-tests-5g-technology-birmingham-train-station

Spain

may 2019
Vodafone

Ericsson
Huawei

Agriculture
eHealth
Smart Cities
Tourism

agriculture, health, smart cities, security and defense, economy and digital culture, digital transformation, and tourism
2

The Spanish government has issued the permits for two 5G pilot programs (to Telefonica and Vodafone). Funding is coming from the state and the European Union (EU).
The two 5G trials will require a total investment of over $40 million. Around $11 million will be co-funded by state agency Red.es within the framework of the European Regional Development Fund (ERDF).
Vodafone Spain and Huawei will carry out tests in the cities of Pamplona, Malaga and Seville. Vodafone also plans to carry out another 5G trial with Ericsson in Vigo.

https://www.rcrwireless.com/20190506/5g/spain-gives-green-light-vodafone-telefonica-carry-out-5g-trials

Spain

may 2019
Telefónica

Ericsson
Nokia
Telnet

Automotive and Road Transport
Drones
eHealth
Fixed Wireless Access

drones, connected cars, fixed wireless access (FWA) and health
2

The Spanish government has issued the permits for two 5G pilot programs (to Telefonica and Vodafone). Funding is coming from the state and the European Union (EU).
The two 5G trials will require a total investment of over $40 million. Around $11 million will be co-funded by state agency Red.es within the framework of the European Regional Development Fund (ERDF).
Telefonica will conduct tests in the Galicia region.

https://www.rcrwireless.com/20190506/5g/spain-gives-green-light-vodafone-telefonica-carry-out-5g-trials

Sweden

may 2019
Telia

Ericsson

Automotive and Road Transport
Industry 4.0

1

Telia is building a 5G network at Mid Sweden University to test 5G for Industrial IoT and AI. This test is set to determine industrial uses of high-bandwidth low-latency cellular connectivity and to accelerate research for autonomous vehicles.
Telia's 5G partner program was created in summer 2018 with Ericsson as the main partner, as well as members across the industries such as Volvo, Einride, Tieto and Mid Sweden. The operator is also working on 5G with the Royal Institute of Technology, the Umeå 5G initiative, Luleå University of Technology and the Swedish Olympic Academy.

https://www.teliacompany.com/en/news/news-articles/2019/telia-and-mid-sweden-university-switch-on-first-5g-network-in-norrland/


Germany

july 2019
Deutsche Telekom

Nokia

Industry 4.0
Transport
Virtual Reality

2

The Hamburg Port Authority (HPA), Deutsche Telekom and Nokia have completed an 18-month field test of 5G slicing and industrial IoT at the Port of Hamburg.
The tests at the 'smart seaport' in Hamburg, running on an 8,000-hectare site between January 2018 and June 2019, covered one strand of the European Union's two-part 5G-MoNArch (5G mobile network architecture) project to test diverse services, use cases, and applications for 5G.
The test field in Hamburg focused on the integration of 5G into traffic and infrastructure control. Deutsche Telekom outlined testing of three cases with different network requirements: Environmental monitoring (sensors), traffic control (analytics), maintenance support (augmented reality).

https://www.telekom.com/en/media/media-information/archive/port-of-hamburg-is-ready-for-5g-574536


Netherlands

july 2019
T-Mobile

26 GHz
3.5 GHz
700 MHz

5G smartphone test
2

T-Mobile Netherlands launched three 5G test network sites in collaboration with the Municipality of The Hague, The Hague Tech (Central Innovation District) and T-Mobile's head office in the city. Frequency bands used at the research sites include 700MHz, 3.5GHz, and 26GHz. The goal is to make The Hague the first city in the Netherlands with a full 5G coverage network in 2020, after the auction of 700MHz frequencies scheduled for completion in early 2020.
The company achieved 850Mbps data download speed at its headquarters with the OPPO Reno 5G smartphone. The maximum data rate on T-Mobile's 4G network is about 400Mbps.

https://www.telegeography.com/products/commsupdate/articles/2019/08/05/t-mobile-netherlands-performs-850mbps-5g-smartphone-test/

Netherlands

july 2019
VodafoneZiggo

Ericsson

3.5 GHz

1

VodafoneZiggo launched a 5G base station connected to its existing mobile network in Maastricht using a 3.5GHz test frequency permit, in partnership with Ericsson. The purpose of the 5G base station in Maastricht is to gain experience in integrating 5G technology with the commercial network before expanding 5G pilot activities to Eindhoven in autumn 2019, also using a 3.5GHz test band.

https://www.telegeography.com/products/commsupdate/articles/2019/07/10/vodafoneziggo-ericsson-switch-on-5g-base-station-in-maastricht/

Portugal

august 2019
Vodafone

Ericsson

3.6 GHz

Media and Entertainment
Virtual Reality

3

Vodafone Portugal has made a 5G hologram call to TVI Studios in Lisbon. The HD hologram was able to interact with the CTO of Vodafone, João Nascimento, in 3D with minimal transmission latency. This means that there was minimal delay in the interaction, despite the huge amount of data being transmitted – a key benefit of 5G.
An HD Audio/Video Image Capture of the reporter from TVI studios in Lisbon was transmitted through the Vodafone Portugal 5G network. Ericsson supplied the 5G end-to-end solution, including an Enterprise Core vEPC in a BOX and 2 5G NR AIR 6488 radios, an Ericsson Router 6000 and 4G Radios for non-standalone NR anchor band.
The National Communications Authority  allowed the telco to utilise a 100MHz block of 3.6GHz spectrum to power the test.


https://www.ericsson.com/en/news/2019/8/5g-holocall-portugal

Russia

august 2019
Beeline
MegaFon
MTS
Tele2

Qualcomm

28 GHz

Virtual Reality

5G-enabled digital, including virtual and augmented reality applications
3

Qualcomm Technologies, Inc., announced on August 24 its work with the Department for Information Technologies of Moscow, Russian mobile operators, equipment and software vendors. The project will support the testing and deployment of Europe's first 5G millimeter wave network in Moscow this fall ahead of wider launches Next Year.
The Moscow project will enable the testing and commercialization of a wide range of new applications, from improved fixed broadband and mobile wireless access for private users to unique business solutions. The project is meant to kick-start a range of new 5G-enabled digital services and innovation in the city, including virtual and augmented reality applications, which are set to become some of the most important elements of the Russian capital's digital space.
Qualcomm says the network will use band n257, which encompasses the 28 GHz band. Until now, European and Asian mobile carriers have focused most of their 5G network development resources on so-called sub-6GHz radio frequencies. High-band mmWave 5G, capable of supporting massive capacity, super-fast speeds, and low latency, has sparked much interest in the United States.

https://www.qualcomm.com/news/releases/2019/08/14/qualcomm-and-russian-mobile-operators-enable-europes-first-5g-mmwave

Poland

september 2019
Orange

Ericsson

3.4 - 3.6 GHz

1

Ericsson and Orange Polska have launched a 5G test network in Warsaw, Poland. Operating on a government-granted test license on the 3.4 – 3.6GHz band, the test network has been set up between nine sites in the Ochota and Powiśle districts of the Polish capital. The 3.4-3.6 GHz band is ultimately planned for the launch of the 5G network in Poland.
The network will use currently available 5G devices, including more than 100 smartphones and routers. Ericsson said that the test network offers download speeds close to 900 Mbps.

https://www.ericsson.com/en/news/2019/9/5g-test-network-in-warsaw—orange-poland-and-ericsson

Bulgaria

july 2019
Telenor

Huawei

3.5 GHz

3

The company completed its first 5G video call in the country. Telenor will assess different 5G use cases to explore the technology's capabilities, using equipment provided by Huawei. These 5G experiments will be specifically designed to address precise needs in the areas of production, education, mentoring, the entertainment industry and art.
In mid-2019 the Communications Regulation Commission (CRC) allocated spectrum in the 3440MHz-3540MHz band to Telenor for six months.

https://www.telenor.bg/en/news/telenor-applies-crc-temporary-use-spectrum-test-5g

Bulgaria

july 2019
A1

Nokia

3.6 GHz

3

A1 Bulgaria (Mobiltel)  commenced trials of 5G technology, following the activation of one base station at the National Palace of Culture in Sofia. The trial, utilising spectrum in the 3.6GHz band and equipment provided by Nokia, will run for six months.

https://www.a1.bg/5g

Portugal

june 2019
Nos

3.5 GHz

Public Safety

2

Portuguese full-service telecoms operator Nos has staged a 5G trial in the coastal town of Matosinhos. According to Nos, the 5G testing process involved the demonstration of beach surveillance/danger prevention techniques. For Nos to carry out the tests, the National Communications Authority allowed the telco to use a block of 3.5GHz spectrum.

https://www.nos.pt/particulares/5g/nos-acao/Pages/praias-seguras.aspx

Slovakia

july 2019
4ka

ZTE

3.7 GHz

3

SWAN Mobile (4ka) conducted the country's first 5G video call in conjunction with equipment partner ZTE. Using the 3.7GHz band, as well as frequencies in the 1800MHz range, 4ka demonstrated download speeds of up to 1Gbps using the ZTE AXON 10 Pro 5G smartphone.

https://www.4ka.sk/tlacove-spravy/takyto-signal-slovensko-este-nezazilo-4ka-a-swan-priniesli-5g-na-slovensko

Czech Republic

june 2019
Telefónica

Ericsson

3.5 GHz

3

Telefonica (O2) Czech Republic activated a 5G network, running in a live environment, covering the city of Koline in the Central Bohemian Region of the Republic. In collaboration with Ericsson, O2 confirmed the live pilot trial using a leased 3.5GHz test frequency equipped with Massive MIMO 64T64R and 256QAM technologies.

https://www.telecompaper.com/news/o2-czech-republic-launches-5g-pilot-area-in-kolin–1297740

Luxembourg

may 2019
Tango

3.6 GHz

3

Tango announced the country's first operational 5G core network. The operator completed technical tests in May, which were conducted in real-life conditions at the operator's research facility in Bertrange. The company used the 3.6GHz frequency and 3GPP's Release 15 specifications for 5G.

https://www.itnation.lu/5g-premieres-connexions-reussies-au-luxembourg/

Russia

september 2019
Tele2

Ericsson
Qualcomm

28 GHz

2

Tele2 Russia claimed peak data speeds up to 2.1Gbps and minimum latency of 9ms on its 28GHz mmWave 5G pilot network zone in central Moscow, using Qualcomm Snapdragon mobile device technology. Tele2 invited users to test the network, which it launched in August in collaboration with Ericsson on Tverskaya Street.

https://www.telecompaper.com/news/tele2-russia-reaches-21-gbps-in-5g-pilot-area–1305726

Russia

september 2019
MTS

Huawei
Nokia

28 GHz

3

MTS, which launched its Moscow 5G mmWave pilot zone soon after Tele2, announced hitting speeds of 2.1Gbps in partnership with Nokia, using a pre-production Samsung S10 5G smartphone featuring Qualcomm's Snapdragon 855 platform and X50 modem. MTS is also partnering Huawei in its 5G piloting programme.

http://ir.mts.ru/ir-blog/mts-blog-details/2019/MTS-ACHIEVES-MAJOR-5G-MILESTONES-IN-RUSSIA/default.aspx

Greece

september 2019
Wind Hellas

3

Greek telco Wind Hellas switched on a trial 5G mobile network at the Thessaloniki International Fair. The firm is giving attendees the chance to experience 5G technology using Huawei Mate 20X handsets, though commercial services are not expected to be implemented until next year at the earliest.

https://www.wind.gr/gr/wind/gia-tin-etaireia/kalupsi/diktuo-prosvasis-kinitis/ti-einai-to-diktuo-5g/

Russia

september 2019
Beeline

Huawei

Ultra-wideband mobile access
3

Beeline launched a 5G pilot network zone in Moscow, in partnership with Huawei and the Department for Information Technologies (DIT) of the city authorities. Beeline's 5G pilot zone around the Luzhniki Stadium. The company is testing ultra-wideband mobile access using new-generation smartphones including Huawei's Mate 20 X, reporting peak data transfer rates to a subscriber device of 2.19Gbps.

https://moskva.beeline.ru/about/press-center-new/press-releases/details/1484193/

Italy

september 2019
TIM

Ericsson

cloud-native 5G core network
2

Telecom Italia (TIM) and Ericsson say they are the first in Italy and among the first in the world to carry out a trial of a cloud-native 5G core network. The telco says the technology enables it to adopt solutions for advanced operational management of the network and implement a service-based software architecture in its next-generation mobile network.

https://www.mobileeurope.co.uk/press-wire/tim-and-ericsson-experiment-native-cloud-tech-to-speed-5g-development

Norway

october 2019
Telenor

3

Using Ericsson Radio System technology, Norwegian telecoms giant Telenor has launched the largest 5G pilot in Scandinavia. The more than 50 customers across the municipality that will be able to connect to the 5G network are located in Elverum municipality, about 80 miles north of the capital city Oslo. Those testing out the network will be able to do so on mobile phones, broadband, smart TV and smart home solutions.

https://www.rcrwireless.com/20191007/5g/telenor-5g-pilot-scandinavia?utm_campaign=20191007%20RCRenewsMon&utm_medium=email&utm_source=Eloqua

United Kingdom

october 2019
Vodafone

3

Vodafone started open RAN trials in the U.K., marking the first such tests in Europe and a move that challenges major telecom equipment vendors like Huawei, Ericsson, and Nokia. Vodafone said open radio access network (RAN) technology helps reduce the cost of providing services, and also made clear the effort aims to bring new equipment vendors outside of the traditional players into the fold.
Open RAN standardizes the design and functionality of RAN hardware and software. By separating out some aspects of telecom networks with open RAN technology, operators can mix and match gear from different equipment vendors, avoiding vendor lock-in.

https://www.fiercewireless.com/tech/vodafone-initiates-first-open-ran-trials-uk-challenging-traditional-vendors?mkt_tok=eyJpIjoiTVdVNU16WmxNelkzT0daaCIsInQiOiJWQVJab3hETGFreEl1TE8yNUdCbW1TdlZnemFtRHFHaDJyZ2hEWkgrK3ZhRFRqQ0VXSG5QeFVjalp0STZtZkdFVDZlK2NzbDd5K2ZTN21iSEdEQjlnM3F1WEtzUlJoRGVaYVY0RzI1cVc5S2U5OUJDdFBJTlwvZlluUTdCNnRKbHcifQ%3D%3D&mrkid=89097394

Norway

october 2019
Telenor

2

Using Ericsson Radio System technology, Norwegian telecoms giant Telenor has launched the largest 5G pilot in Scandinavia. The more than 50 customers across the municipality that will be able to connect to the 5G network are in Elverum municipality, about 80 miles north of the capital city Oslo. Those testing out the network will be able to do so on mobile phones, broadband, smart TV and smart home solutions.

United Kingdom

october 2019
Vodafone

open radio access network (RAN) technology
2

Vodafone started open RAN trials in the U.K., marking the first such tests in Europe and a move that challenges major telecom equipment vendors. Vodafone said open radio access network (RAN) technology helps reduce the cost of providing services, and also made clear the effort aims to bring new equipment vendors outside of the traditional players into the fold.

https://www.vodafone.com/news-and-media/vodafone-group-releases/news/vodafone-pioneers-innovative-network-tech-to-increase-suppliers-and-extend-rural-internet-access

Greece

october 2019
Media and Entertainment

2

The 5G ESSENCE project has successfully demonstrated the first use case ("5G Edge Network Acceleration with local video production and distribution in a Stadium") in Egaleo-Athens, Greece.
Two football teams had a typical 90 min. match and, through the used 360° cameras, this event was broadcasted to the eMBMS (evolved Multimedia Broadcast / Multicast Services) enabled UEs (User Equipment) of the involved spectators.

http://www.5g-essence-h2020.eu/Portals/0/5G%20ESSENCE_%20Newsletter%20No.%204_final.pdf?ver=2019-12-04-084504-657

Netherlands

october 2019
KPN

3.5 GHz

2

KPN of the Netherlands has tested 3.5GHz 5G connectivity between multiple locations, completing data sessions and voice/video calls on 5G smartphones between its 5G indoor network in the Johan Cruijff Arena in Amsterdam, its 5G FieldLab in the Port of Rotterdam and the KPN Technology Lab in The Hague.

https://www.commsupdate.com/articles/2019/10/08/kpn-testing-700mhz-3500mhz-26ghz-5g-connections/

Poland

october 2019
Orange

Nokia

3.4 - 3.6 GHz

Orange Polska and Nokia have begun 5G testing in the city of Lubin. The test will incorporate ten base stations in four districts of the city. Nokia says the trial will utilise 80MHz of spectrum in the 3.5GHz band, enabling data speeds of up to 800Mbps.

https://www.nokia.com/about-us/news/releases/2019/10/25/nokia-and-orange-polska-bring-5g-to-lublin/

october 2019
Sunrise

Huawei

3.4 - 3.8 GHz

1

Swiss mobile operator Sunrise has teamed up with Chinese vendor Huawei to achieve maximum download speeds of 3.67Gbps with multiple smartphones in a Zurich-based 5G trial.

https://www.commsupdate.com/articles/2019/10/10/sunrise-huawei-notch-3-67gbps-in-zurich-5g-trial/

United Kingdom

november 2019
Public Safety

1

5G ESSENCE End-to-End Slicing to support Mission Critical Communications. The demonstration follows the activities of first responders in a crowded city to ensure the safety of everyone. Two different mission critical services have been considered: Mission Critical Push-To-Talk (MCPTT) application and Chat-and-Localization application.

http://www.5g-essence-h2020.eu/Portals/0/5G%20ESSENCE_%20Newsletter%20No.%204_final.pdf?ver=2019-12-04-084504-657

Turkey

november 2019
Turk Telekom

Huawei

3.5 GHz

2

Turk Telekom (TT) recorded a peak data speed of above 2.9Gbps on a live 5G test network in cooperation with Huawei, using 5G New Radio (NR) Carrier Aggregation (CA) with two 100MHz bandwidth carriers at 3.5GHz (C-Band) frequency.

https://www.commsupdate.com/articles/2019/11/04/turk-telekom-clocks-2-9gbps-on-live-5g-test-network-with-huawei/

Germany

november 2019
Industry 4.0

2

5G ESSENCE Next Generation IFEC. This pilot recorded a video at ZII premises in Wessling (Munich, Germany) and comprises of different physical and diverse sources. The video follows all the phases of a flight. The different stages of a civil air journey define, within other parameters, which RATs are allowed. This information is relevant in this demonstration, since one of the pillars of the new IFEC system is multi-RAT co-existence (i.e. Wi-Fi and LTE).

http://www.5g-essence-h2020.eu/Portals/0/5G%20ESSENCE_%20Newsletter%20No.%204_final.pdf?ver=2019-12-04-084504-657

Italy

november 2019
Fastweb

Ericsson

Public Safety
Virtual Reality

2

Fastweb launched live 5G trials in the city of Genoa along with equipment partner Ericsson. The operator said the 5G infrastructure enabled it to 'implement innovative video surveillance projects, virtual reality solutions to enhance cultural heritage, an environmental monitoring system to control air quality, and manage lighting systems'.

https://www.telecompaper.com/news/fastweb-ericsson-activate-live-phase-of-genoa-5g-project–1316504

Spain

november 2019
Automotive and Road Transport

2

The 5G-PICTURE Project showcased its Railway demonstration on November 13th in Barcelona. The Railway vertical is a case for a shared 5G multitenant network. The multiservice railways network developed in the 5G-PICTURE project will reduce investment and accelerate 5G NR deployment in railways.

https://5g-ppp.eu/5g-picture-railway-demonstration/

United Kingdom

november 2019
EE

eHealth

1

U.K. operator BT and University Hospitals Birmingham NHS Foundation Trust are demonstrating scenarios where 5G technology could provide solutions for the healthcare sector.
The showcase will bring the concept of a 5G connected ambulance, in which the technology allows clinicians to remotely assess and diagnose a patient, view medical records, vital signs and ultrasounds. The demonstration depicted a paramedic working from an ambulance in an area of Birmingham being linked over the 5G network to a clinician based over two miles away.

https://newsroom.bt.com/uhb-and-bt-demonstrate-uks-first-remote-diagnostic-procedure-using-a-5g-connected-ambulance/

Germany

november 2019
Qualcomm
Siemens

3.6 - 3.8 GHz

Industry 4.0

2

Qualcomm Technologies and Siemens have set up a joint proof-of-concept project at the Siemens Automotive Test Center in Nuremberg, Germany, demonstrating what it claims to be the first private 5G standalone (SA) network in a real industrial environment using the 3.7-3.8GHz band, the U.S. chipmaker said in a release.

https://www.qualcomm.com/news/releases/2019/11/26/qualcomm-technologies-and-siemens-set-first-5g-private-standalone-network

Spain

december 2019
Telefónica

eHealth

2

5TONIC, founded by Telefónica, presented a new system for situations 5G-based emergency plan. The demonstration shows a personalized 5G 100% automatic system that allows reducing the time of action in case of an emergency, minimizing errors, which implies a greater survival rate.

https://www.uc3m.es/ss/Satellite/UC3MInstitucional/en/Detalle/Comunicacion_C/1371281060507/1371215537949/New_5G-based_system_for_sanitary_emergency_situations

Denmark

december 2019
TDC

Ericsson

3.5 GHz

2

Ericsson provided 5G network equipment for a pilot network that was launched by Dannish carrier TDC in the city of Helsingør, Denmark. The pilot network went live during a joint Ericsson-TDC in event in Helsingør that featured multiple 5G demonstrations, including an immersive gaming experience.

https://www.ericsson.com/en/news/2019/12/tdc-5g-pilot

Slovakia

december 2019
4ka

3.5 GHz

2

The Slovak cellco SWAN Mobile (4ka) opened a limited 5G network in the city of Banska Bystrica. The operator said customers with 5G-enabled handsets could access services via two base stations in the city.

https://www.telecompaper.com/news/4ka-opens-5g-pilot-network-in-banska-bystrica-to-all-subscribers–1319788

Spain

december 2019
Media and Entertainment

1

5G-Media proved the concept of a remote production with low latency between venue and production ends. The breakthrough of this use case was to break apart the capture of audio-video on a venue from the TV production.

http://www.5gmedia.eu/2019/12/10/5g-media-consortium-reaches-proof-concept-use-case-2/

Germany

december 2019
Nokia

Automotive and Road Transport

2

Nokia won a tender with German rail company Deutsche Bahn to test and deliver standalone 5G for autonomous trains and rail operations. The Hamburg proof will test whether 5G is "mature enough" to be used as the connectivity layer for rail operations.

https://www.nokia.com/about-us/news/releases/2019/12/12/nokia-wins-deutsche-bahn-tender-to-deliver-and-test-the-worlds-first-5g-based-network-for-automated-rail-operation/

Switzerland

december 2019
Swisscom

Ericsson

2

Across the pond in Switzerland, operator Swisscom plans to use dynamic spectrum sharing (DSS) to offer up 5G coverage to 90% of the population by the end of this year. Across several other ponds, Australian service provider Telstra is also looking to tap DSS for its 5G strategy. Ericsson is a leader in DSS testing and, on Nov. 29, marked another milestone by supporting a 5G data call between Swisscom and Telstra's networks.

https://www.rcrwireless.com/20191203/5g/dss-5g-switzerland-australia?utm_campaign=20191203%20RCRenewsTues&utm_medium=email&utm_source=Eloqua

Norway

december 2019
Telia

Ericsson

Transport

5G autonomous ferry
1

Ericsson, Telia and the Norwegian University of Science and Technology (NTNU) have partnered to carry out a demonstration of a 5G autonomous ferry. The partners demonstrated a small connected passenger ferry, using artificial intelligence (AI), in the Norwegian city of Trondheim.

https://www.teliacompany.com/en/news/news-articles/2019/telia-tests-5g-powered-autonomous-vessels/

Italy

january 2020
TIM

Ericsson
Qualcomm

26 GHz

mmWave spectrum
1

Telecom Italia (

TIM

) said it achieved a European record speed of 2Gbps on its live commercial 5G mobile network using 26GHz millimetre wave (mmWave) frequencies in collaboration with Ericsson and Qualcomm.

https://www.ericsson.com/en/news/2020/1/tim-european-5g-record

Spain

february 2020
Cellnex
Rohde & Schwarz
Spinner

700 MHz

Media and Entertainment

1

Rohde & Schwarz, together with European telecoms infrastructure provider Cellnex and Spinner transmitted a 5G live Broadcast signal provided by Spanish broadcaster RTVE on-air, highlighting a new mobile live experience to smartphones, tablets and a range of SIM-less devices across central Barcelona.

https://www.rohde-schwarz.com/lv/about/news-press/all-news/rohde-schwarz-teams-up-with-cellnex-and-rtve-to-leverage-5g-live-broadcast-experience-in-barcelona-press-release-detailpage_229356-784906.html

Spain

february 2020
Orange

Nokia

1

Orange Espana and Nokia have announced the successful completion of a Standalone 5G data trial in the north-west city of Vigo. The tests utilised the vendor's fully virtualised 5G network core alongside a commercial Mediatek 5G device. All equipment adheres to 3GPP Release 15 standards.

http://blog.orange.es/noticias/orange-nokia-llamada-5g-standalone-vigo/

Germany

february 2020
Ericsson

Industry 4.0

1

Ericsson and Audi announced the testing of Ultra-Reliable Low-Latency Communication (URLLC) capabilities for factory automation at the car manufacturer's P-Labs facility in Germany.

https://www.ericsson.com/en/news/2020/2/5g-for-factory-automation

Poland

february 2020
Orange

Nokia

3.4 - 3.8 GHz

1

Orange Polska and Nokia achieved download speeds of 1.2Gbps in trials of non-standalone (

NSA

) 5G technology in Lublin utilising the 3.4GHz-3.8GHz band.

https://www.commsupdate.com/articles/2020/02/10/orange-polska-claims-1-2gbps-5g-speeds-in-lublin-trial/

Poland

february 2020
Play

Ericsson

1

Polish operator P4 (Play) partnered with Ericsson to deploy a pilot 5G network in Sokolow Podlaski, using Massive 

MIMO

 technology.

https://www.commsupdate.com/articles/2020/02/03/play-opens-5g-pilot-in-sokolow-podlaski-with-ericsson/

Belgium

february 2020
Proximus

Industry 4.0

1

Proximus and the Port of Antwerp signed a Memorandum of Understanding to develop and test a private 5G network in order to evaluate potential industrial applications.

https://www.proximus.com/news/20200205-Proximus-and-Port-of-Antwerp-are-preparing-for-the-port-s-digital-transformation-by-developing-a-private-5G-network-.html

Denmark

march 2020
Telenor
Telia

Nokia

Multi-Operator Core Network
1

Telenor and Telia deployed what they claimed 'the world's most advanced shared wireless network supporting a Multi-Operator Core Network feature, enabled for wireless technologies spanning 2G to 5G', in partnership with Nokia.

https://www.nokia.com/about-us/news/releases/2020/03/04/nokia-telenor-and-telia-create-the-worlds-most-advanced-shared-wireless-network-in-denmark/

Italy

march 2020
Linkem
Open Fiber

3.5 GHz

Fixed Wireless Access

1

Wholesale network operator Open Fiber and

FWA 

provider Linkem partnered to trial 5G broadband wireless technology utilising Linkem's 3.5GHz frequency licence. The firms say they will carry out tests aimed at providing improved 5G connectivity for users in rural regions.

https://openfiber.it/mondo-open-fiber/comunicati-stampa/linkem/

Spain

march 2020
MasMóvil

Cellnex

Education
Virtual Reality

edge computing and augmented reality technologies
1

IESE and telecom infrastructure operator Cellnex have announced the setup of a 5G mobile network at the school's Barcelona campus to test 5G wireless prototypes. Together, they are using it to explore how the technology can help enhance educational experiences. The prototypes incorporate 5G, edge computing and augmented reality technologies.

https://www.iese.edu/stories/iese-pioneers-5g-europe/

Germany

june 2020
Deutsche Telekom

2100 MHz

1

The test network utilises frequencies in the 2100MHz band and comprises 54 antennas in Dusseldorf, covering the inner city area and the Derendorf district, twelve in Ingolstadt (increasing to 51 in the next few days) and 28 antennas in the eastern industrial area of Halle/Saale.
In total, TD plans to switch on over 40,000 5G antennas in the 2100MHz band this year, benefiting more than half of the German population. The firm is using Dynamic Spectrum Sharing (

DSS

), which enables the parallel operation of both 

LTE

 and 5G in one frequency band.

Russia

march
MTS

Ericsson

1800 MHz
2100 MHz
800 MHz

1

Mobile TeleSystems (

MTS

), partnered Ericsson to test dynamic redistribution of frequencies between 4G 

LTE

 and 5G NR networks, demonstrating methods for low-cost deployment of wide 5G coverage utilising existing 

LTE

 infrastructure. The tests carried out at MTS' offices in Ufa used a commercial 5G non-standalone (

NSA

) 1800MHz/2100MHz base station with Ericsson Radio System equipment utilising the Instant Ericsson Spectrum Sharing (Instant 

ESS

) solution and 800MHz 

LTE

 anchor band. Test end-user terminals with MediaTek chipsets were used.

Malta

september 2020
Melita

Ericsson

3.4 - 3.8 GHz

3

Simon Montanaro, Chief Technology Officer at Melita Limited, said, "In 2018, Melita commissioned Ericsson to upgrade its mobile network and make it 5G ready. Today, with this state-of-the-art network in place, we are able to begin trialing 5G technology on frequencies which are already in use and therefore assess the performance of Ericsson's advanced technology in this local context."

Spain

august 2020
MasMóvil

Cellnex

Education
eHealth
Industry 4.0
Public Safety
Transport

1

A consortium of eight companies led by Cellnex Telecom and Grupo 

MASMOVIL

 will roll out a 5G pilot ('Piloto 5G Catalunya') in the Barcelona metropolitan area to test and develop innovative solutions for the education, industry, commerce, tourism, transport, safety and emergency management sectors. The project will launch in September and run until December 2022.

https://www.lavanguardia.com/vida/20200731/482590774961/cellnex-y-masmovil-lideran-un-proyecto-piloto-5g-en-el-area-de-barcelona.html


Slovakia

october 2020
Telefónica

Ericsson
Huawei
Nokia
ZTE

1800 MHz
3.7 GHz

2

O2 Slovakia has launched pilot 5G networks covering four districts of Bratislava, using spectrum in the 1800MHz and 3.7GHz bands.

https://www.telecompaper.com/news/o2-slovakia-launches-5g-pilot-networks-with-4-suppliers-in-bratislava–1357031

Russia

august 2020
Beeline

Nokia
Qualcomm

26 GHz
28 GHz

Media and Entertainment
Virtual Reality

1

Beeline, Nokia and Qualcomm launched a 5G pilot/demo network at SevKabel Port in St Petersburg using a temporary local permit for mmWave (26GHz-28GHz) frequencies. Attendees can test 5G capabilities by playing VR/online games via the Beeline Gaming cloud service.

https://www.broadbandtvnews.com/2020/08/18/beeline-launches-5g-network/

Finland

september 2020
Elisa

Ericsson

2

Elisa and Swedish vendor Ericsson claim to have established the first end-to-end 5G Standalone (SA) connection in Finland.

https://www.ericsson.com/en/press-releases/3/2020/nordics-first-5g-standalone-connection-powered-by-ericsson-and-elisa

United Kingdom

july 2020
Vodafone

Ericsson
MediaTek
OPPO
Qualcomm

Education
eHealth
Media and Entertainment
Virtual Reality

Coventry University
1

Vodafone UK revealed in a press release that it had launched a new 5G standalone (SA) network at Coventry University, in partnership Ericsson, MediaTek, 

OPPO

 and Qualcomm. According to Vodafone UK the new network 'will be used to show the true benefits of 5G, including ultra-low latency, guaranteed speed performance, and the Internet of Things on a never-before-seen scale'.

https://www.rcrwireless.com/20200705/5g/vodafone-uk-showcases-sa-5g-network

Russia

september 2020
MOTIV

Ericsson

27 GHz

2

Russian regional operator 

MOTIV

 has tested 5G 27GHz mmWave technology in partnership with Ericsson using a pilot network zone deployed in Kharitonovsky Park in Yekaterinburg.

https://www.commsupdate.com/articles/2020/09/15/motiv-tests-5g-mmwave-with-ericsson/

Russia

august 2020
MTS

Ericsson

27 GHz

Industry 4.0

1

Russia's Mobile TeleSystems (

MTS

) has launched pilot 5G mmWave network zones at the Tomsk State University of Control Systems & Radioelectronics (

TUSUR

) and at the nearby production plant of Russian telecoms equipment manufacturer Mikran.

https://www.telecompaper.com/news/mts-launches-pilot-5g-network-in-tomsk–1351151

Estonia

july 2020
Telia

3.6 GHz

Media and Entertainment

1

Estonian fixed and mobile operator Telia Eesti says it is trialling home broadband and pay-TV services over 5G wireless networks.

https://www.commsupdate.com/articles/2019/07/11/telia-trialling-5g-in-estonia-for-fixed-replacement-services/

Sweden

september 2020
Telia

Ericsson

Automotive and Road Transport

1

As part of a pilot project, 5G Ride, a 5G-enabled autonomous minibus, will now operate along a short route on the island of Djurgården, Sweden for approximately the next two weeks on a network powered by commercial Ericsson Radio System products and solutions. Telia, with support from Ericsson, has deployed 5G sites along the trial route.
The 5G sites provide high-speed data transfer, low latency and reliability along the route, enabling the connected minibus to respond in real time to commands from the control tower, which is equipped with an Ericsson is technical solution.

https://www.rcrwireless.com/20200924/carriers/ericsson-telia-test-5g-enabled-autonomous-minibus-in-stockholm?utm_campaign=20200924%20RCRenewsThurs&utm_medium=email&utm_source=Eloqua

United Kingdom

december 2020
Telefónica

1

U.K. operator O2, owned by Spanish telco Telefonica, said it has successfully piloted the integration and operation of Vilicom's Open RAN (O-RAN) infrastructure, enhancing indoor mobile connectivity for O2 business customers over Vilicom's Connectivity-as-a-Service (CaaS) network platform.

https://www.rcrwireless.com/20201209/open_ran/o2-tests-o-ran-to-boost-connectivity-for-uk-industries-businesses?utm_campaign=20201209%20RCRenewsWed&utm_medium=email&utm_source=Eloqua

Finland

november 2020
Elisa

Nokia
Qualcomm

26 GHz

1

Nokia, Elisa and Qualcomm Technologies have achieved what they claim are the world's fastest 5G speeds on a commercial network in Finland by delivering 8 Gbps for the first time serving two 5G mmWave devices connected simultaneously

https://www.rcrwireless.com/20201118/5g/nokia-elisa-qualcomm-claim-5g-speed-record-finland?utm_campaign=20201118%20RCRenewsWed&utm_medium=email&utm_source=Eloqua

Lithuania

november 2020
Telia

2

Telia Lietuva has launched a trial 5G mobile network, after securing temporary frequency authorisation from the Communications Regulatory Authority (Rysiu Reguliavimo Tarnyba, 

RRT

) to test the technology.

https://www.commsupdate.com/articles/2020/11/11/telia-lietuva-launches-trial-5g-network/

Italy

november 2020
TIM

Ericsson
Qualcomm

26 GHz

1

Telecom Italia (

TIM

) says it has achieved a speed of 1Gbps over a long-distance fixed-wireless access (

FWA

) link using 26GHz millimetre wave (mmWave) 5G technology.

https://www.commsupdate.com/articles/2020/12/07/tim-demonstrates-long-distance-gigabit-fwa/

Norway

march 2021
Telia

Ericsson

3.6 GHz

1

Telia and Ericsson have launched what it claims to be the first 5G carrier aggregation trial in Norway, with the aim of supporting Telia's nationwide 5G rollout, Ericsson said in a release.
As part of Telia's ambition to bring nationwide 5G coverage to Norway by 2023, Telia and Ericsson have started a 5G New Radio (NR) TDD-FDD carrier aggregation for coverage extension trial in Lillestrøm, a town located next to Oslo, the capital city of Norway.


Telia, Ericsson carry out 5G carrier aggregation trial in Norway





Germany

february 2021
Deutsche Telekom

5G SA
3

German telco Deutsche Telekom installed the first 5G Standalone antenna in the town of Garching, near Munich, to carry out trials of this technology, the company said in a release.
Deutsche Telecom said that the antenna will be soon connected to a 5G Standalone core network, which will be implemented via cloud infrastructure.
The operator also noted that there are currently no terminals for customers that support 5G standalone. The telco is therefore conducting the first tests with special development software on commercially available devices. The goal is to test various connections and applications that function completely standalone and without the support of 4G in the coming weeks.

https://www.rcrwireless.com/20210219/5g/deutsche-telekom-start-trials-5g-sa-technology?utm_campaign=20210219%20RCRenewsFri&utm_medium=email&utm_source=Eloqua

United Kingdom

february 2021
Telefónica

Altiostar
NEC

5G OPEN RAN
2

As O2 continues to shake out the role of Open RAN in both sparsely populated and dense urban areas, it's latest trial tapped Japan's NEC as system integrator and, according to COO Derek McManus, is the latest step in "transform[ing]our network through collaboration and the optimization of new technologies such as Open RAN."
In January 2020, O2, Telefonica's operation in the United Kingdom, said it would broaden the scope of its RAN vendors to include Mavenir, DenseAir and WaveMobile. The operator described Open RAN as "particularly useful for coverage in hard to reach rural locations – such as an area with a very small population – or where a sharing model is more cost effective such as dense urban locations where large numbers of small cells are required."

https://www.rcrwireless.com/20210201/carriers/o2-trials-open-ran-with-nec-and-altiostar?utm_campaign=20210201%20RCRenewsMon&utm_medium=email&utm_source=Eloqua

Czech Republic

january 2021
Deutsche Telekom

Samsung

5G SA
2

Samsung and Deutsche Telekom completed the Czech Republic's first 5G Standalone (SA) trial in Pilsen. During the trial, the two companies verified the performance of 5G SA Multi-User, Multiple-Input Multiple-Output (MU-MIMO) technologies using Samsung's massive MIMO radio and core.
The results from the trial, according to the companies, showed that the spectrum efficiency was tripled in comparison to that of LTE under realistic conditions, while throughput increased by about 2.5 times of Single-User MIMO.

https://www.rcrwireless.com/20210128/5g/samsung-deutsche-telekom-complete-5g-sa-trial-in-czech-republic?utm_campaign=20210128%20RCRenewsThurs&utm_medium=email&utm_source=Eloqua

Croatia

march 2021
Hrvatski Telekom

3.5 GHz

1

Croatian operator Hrvatski Telekom (HT) has begun trialling 5G technology in the 3.5GHz band in central Zagreb. Users with compatible handsets have been invited to test the enhanced 5G service in a limited area of the capital. A report from Bug.hr says that speeds of over 1Gbps can be achieved on the pilot network.

https://www.commsupdate.com/articles/2021/03/02/ht-begins-testing-3-5ghz-5g-services/

Germany

march 2021
Deutsche Telekom

5G SA
2

Telekom Deutschland says it has carried out an uninterrupted video call over its 5G Standalone (SA) network. After numerous tests, the call was made via the firm's first standalone antenna in the town of Garching near Munich to Bamberg in Telekom's first 5G SA core network, and from there to Bonn

https://www.commsupdate.com/articles/2021/03/09/telekom-tests-5g-sa-network-with-video-call/

Spain

march 2021
Telefónica

Automotive and Road Transport
Transport

1

Telefónica is to deploy a 5G network for Netherlands-based port operating company APM Terminals at the Port of Barcelona. The network, in a pilot phase, will be used to connect cranes, vehicles, and people in the port area, to manage traffic and improve worker safety. The project goes live next summer.
Telefónica will deploy 5G coverage in the port area in Barcelona. The new network will route at least some traffic off-site to the carrier's data centre in Barcelona. The setup will incorporate 5G-based cellular vehicle-to-everything (C-V2X) to connect a number of the elements, including vehicles and machinery, and such things as streetlights.

https://enterpriseiotinsights.com/20210311/channels/news/telefonica-apm-terminals-to-deploy-5g-and-c-v2x-port-of-barcelona?utm_campaign=20210311%20Enterprise%20IoT%20NewsletterThurs&utm_medium=email&utm_source=Eloqua

Russia

march 2021
MTS

4.9 GHz

Virtual Reality

1

Mobile TeleSystems (

MTS

) has announced the launch of Russia's first large-scale 5G pilot user network, utilising the 4.9GHz frequency band, in 14 popular locations in Moscow, where 

MTS

 subscribers using compatible smartphones will be able to connect to unlimited 5G internet at speeds up to 1.5Gbps with minimal network latency.

https://www.commsupdate.com/articles/2021/03/08/mts-claims-first-large-scale-pilot-5g-user-network-in-russia/

Turkey

march 2021
Turkey Telekom

Nokia

26 GHz

1

Turk Telekom (TT) and Nokia have conducted tests in which they claimed a new 5G 'world record' data transmission speed of above 4.5Gbps, using mmWave (26GHz) spectrum bands in an eight-carrier configuration over a 5G NR test network with specially equipped smartphones.

https://www.commsupdate.com/articles/2021/03/22/turk-telekom-tests-4-5gbps-5g-raises-fibre-performance-with-ai/